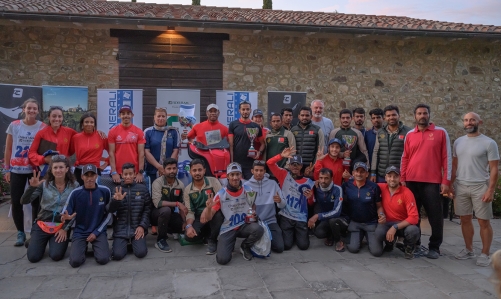 Royal Endurance Team crowned at Montalcino endurance championship
TDT | Manama
The Daily Tribune – www.newsofbahrain.com
The Organising Committee of Montalcino International Endurance Championship held an honouring ceremony of the winners of the races held in the Championship, which witnessed His Highness Shaikh Nasser bin Hamad Al Khalifa, Representative of His Majesty the King for Humanitarian Works and Youth Affairs, and Captain of the Royal Endurance Team, winning the 160 km race amidst the participation of a number of European riders, while the winning riders from the Royal Endurance Team in the 120 km race for the general public and the 100 km race for juniors were also honoured.
On this occasion, HH Shaikh Nasser asserted that these good results achieved by the Royal Endurance Team embody the support enjoyed by equestrian sports in general and endurance sports in particular from His Majesty King Hamad bin Isa Al Khalifa, the King of the Kingdom of Bahrain, and the care and support of His Royal Highness Prince Salman bin Hamad Al Khalifa, the Crown Prince and Prime Minister.
His Highness expressed delight in achieving first place in the 160 km race and winning the 120 km and 100 km races by the Royal Endurance Team, confirming the high potential of the Team and the outstanding efforts made by the riders in the Championship.
HH Shaikh Nasser said: "The Championship witnessed strong completion and daring challenges, which distinguish it from the previous edition. It required the ability to ride horses in tough terrains. There were great challenges, but we were able to successfully overcome them, and this confirms what the riders enjoy and their successful leadership of the horses throughout the stages. These good results will motivate the Royal Endurance Team for the next stage, as the Team is preparing for its upcoming participations, most notably the World Championship, and we will continue making efforts to be fully prepared."
His Highness applauded the exceptional performance shown by the Team's riders in the Championship and the sincere efforts exerted by all members. Dr. Khaled Ahmed Hassan, Director of the Royal Endurance Team, received the first place award for the 160 km race, and the Royal Team's 120 km race riders were honoured.
The honoured riders were Mohammed Abdulsamad, who won the first place, Youssef Al Jubouri, second place winner, and Khalifa Jamal Al Sanadi, who won the third place. Abdulrahman Al Khateri also received the firstplace trophy in the 100 km race for juniors.
The closing ceremony witnessed the honouring of the Royal Team with the award for the best horse condition after the end of the race, for the horse Dahess Del Falot, which was led by HH Shaikh Nasser to achieve first place in the Championship.