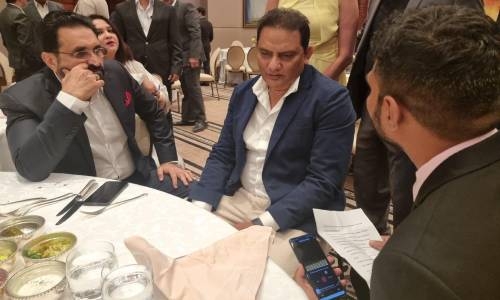 Bahrain has a great future in the game of cricket says legendary cricketer Mohammed Azharuddin
TDT | Manama
The Daily Tribune – www.newsofbahrain.com
Staff Reporter
Last evening proved to be a great day for cricket enthusiasts in Bahrain as they could catch a glimpse of legendary cricketer Mohammed Azharuddin, who is on a visit to Bahrain.
Many fans got the rare privilege of interacting and taking photographs with one of the greatest batsmen in cricket history, lauded by pundits as the one and only wrist artist in the game. The event, an Iftar gathering, was hosted by Saara Group headed by Mohammad Mansoor at Four Seasons Hotel Bahrain Bay.
Speaking to The Daily Tribune, Azharuddin said Bahrain cricket has the best future considering the achievements in the field.
"Both men's team and the women's team have done exceedingly well. But they shouldn't be resting on laurels. This success should be a beginning and they should not stop here," he said.
"I know they almost qualified for the twenty-twenty World Cup. It was just a narrow miss. But providing the best infrastructure will be vital for the success in future."
"There is a lot of cricketing talent and passion among the youth of Bahrain, and I can feel it. It should be properly encouraged from all the quarters. "There is a lot of future in cricket and I want the youth to explore this great opportunity in the game."
When asked about the Indian cricketing scenario, he said Indian cricket is going through the best of its times. "India is dominating in all forms of cricket, be it test match, one-day or twenty-twenty. And I am really happy about this success.
"We must not forget that Indians won the World Cup well before the Australians. India always has the best talent pool to emerge as a dominant team in international cricket. He said he hoped more countries would have their cricket teams playing international matches in the future, taking the quality and popularity of the match to new heights.
"Having International Cricket Council membership is not enough, what is important is the efforts taken to promote the game."
The superstar cricketer's advice on youngsters pinning hope of achieving success in the game is simple.
"Young cricketers always should work hard. Don't feel disappointed if you don't do well or don't get selected. There is no substitute for hard work, which will eventually pay the best rewards."
Azharuddin enjoyed tremendous success on the cricket field with no parallels in wrist play as well as fielding. He announced his arrival, against England in 1984-85, with three hundreds in his first three tests, a feat that has never been matched, while his last test innings also saw him score a hundred.
Azharuddin is one of the most successful captains of India. He led the Indian cricket team to many memorable victories and played a total of 99 Test matches and 334 ODIs.