Bahrain ready for 'high intensity' challenge against Oman
TDT | Manama
The Daily Tribune – www.newsofbahrain.com
Bahrain head coach Helio Sousa expects a very "high-intensity game" when they face off with Oman tonight in the FIFA Arab Cup 2021, currently being held in Doha.
Both teams have all to play for in this crucial clash, as each side needs to claim a victory to improve their chances of qualifying for the knockout stage from Group A.
The Bahrainis and Omanis are currently tied on the table with just one point apiece from their first two matches.
"They are strong in every moment of the game," Sousa said yesterday of the national team's opponents during his pre-match Press conference.
"Oman is all the time a difficult game.
It is not easy to win against them; these are very balanced games.
The two teams need to win the game to pass [to the next round].
I think it will be a very good game with high intensity."
Bahrain and Oman will also need a favourable result in tonight's other Group A fixture between tournament host Qatar and Iraq to advance.
The Qataris are already through to the next stage while Iraq is just one point ahead of Bahrain and Oman.
Tonight's two games are scheduled for simultaneous 10 pm kick-offs.
Bahrain and Oman play at Ahmad bin Ali Stadium while Qatar and Iraq face off at Al Bayt Stadium.
Sousa highlighted that his players need to give more than their best as they fight to stay alive in the competition against their Gulf rivals.
"We need to be a little bit more confident than what we were before and to put the same quality in the game; but even if we put our best in the game, we must win at the end of the 90 minutes," Sousa said.
"We will do it all with all the delivery and fire that our players are showing every time.
We must give that extra that we try to deliver every time to beat Oman, who are a very strong team.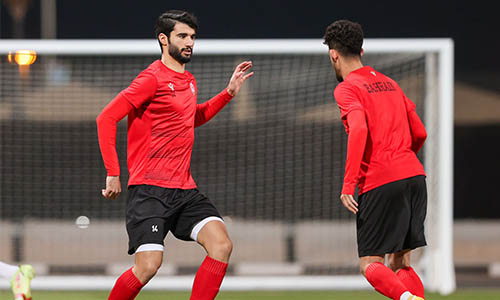 "This is what we can control— to win our game and to be as strong as we can in this game, and hope that the other game goes in the way that can benefit us if we win it.
"We have all the conditions to do it, just like in the other games."
The Portuguese tactician called for greater efficiency from his players, particularly in attack.
"We need to be more efficient, more competent in the last third of the pitch—in shooting, in the last pass—to be able to put in the final result some of the advantage and some of the moments in the game where we are better than our opponent.
"In our last game, most of Iraq's shots were from 20 or 30 metres or so.
Not a dangerous situation—just one or two dangerous situations where we didn't let them shoot near our goal.
It showed how strong we are in defence against a strong team.
"We got our chances, mostly in the first 20 minutes, but we must score.
We must be more competent to put the result our way, and for sure the game will be different.
"We could have done it in our two games before, and we must do it in the next one."