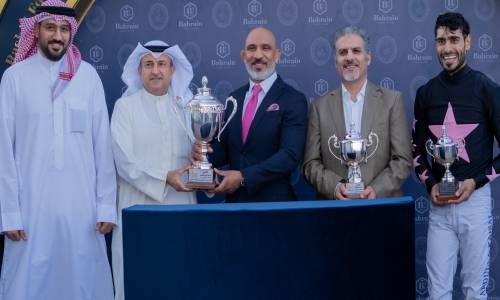 Mars Landing wins Arabian Horse cup in feature race
TDT | Manama
The Daily Tribune – www.newsofbahrain.com
Mars Landing lifted the Arabian Horse Equestrian Services Cup in the main race yesterday at Rashid Equestrian and Horseracing Club in Sakhir. In attendance yesterday were Supreme Council for Youth and Sports first deputy chairman, General Sports Authority chairman and Bahrain Olympic Committee president His Highness Shaikh Khalid bin Hamad Al Khalifa and REHC High Committee chairman His Highness Shaikh Isa bin Salman bin Hamad Al Khalifa, among other officials.
The Al Mohamediya Racing-owned imported contender clinched the victory in the nine-furlong, BD3,000 event for trainer Hesham Al Haddad while being saddled by Neil Callan. Wait Forever was second for Al Hassanain Racing, Abdulla Faisal and Ali Jan, while in third was Bond's Boy for Al Mohamediya Racing, Osama Hashim and Paddy Mathers.
In the sixth race of the day for another Arabian Horse Equestrian Services Cup, Alejandro was the winner for Al Adiyat Racing, AM Smith and Charles Bishop in the nine-furling, BD2,000 event for local breeds. Campolina came second for Abdulla Fawzi Nass, Hesham Al Haddad and Rosie Jessop while The Dark Knight was third for Victorious, AM Smith and Edinson Rodriguez.
The third Arabian Horse Equestrian Services Cup in the fourth race was claimed by Forbidden Land, owned by Hasan Mefareh Alajmi, trained by Hesham Al Haddad and ridden by Ahmed Maki. The event, held over seven furlongs with a BD2,000 prize, saw Wiretap come second for Victorious, Yousif Taher and Abdulla Al Hawaj, while Modmin was third for HBR Racing, Hareb Almalki and Ebrahim Nader.
Meanwhile, the Palace Enterprises Cup was claimed by Riffaa Wonder in the day's third race. Saddled by Abdulla Faisal, the victor raced to first place for owner Redha Munfaredi Racing and trainer Hussain Aldailami, with Al Abrar finishing as the runner-up and Takuendo third.
Elsewhere yesterday, in the fifth race, Aslaan was the winner for Al Mallah Syndicate, Abduljaleel Al Mallah and Phil Dennis. Henry the Horse and Al Aafoor completed the top three. Kailash claimed the victory in race two for Mohammed Yousif Sarhan, Yousif Sarhan and jockey Abdulla Faisal.
Tazmeen was the runner-up and Lahoug third. In the first race of the day, Kuhela't Al Adiyat 1782 was the winner, ridden by Anas Alsiyabi. Al Ma'anagieh 1789 came second and Al Krush 1751 was third.