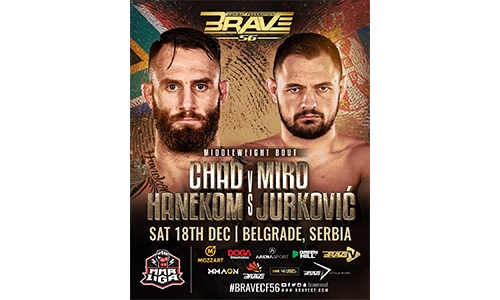 Hanekom returns against hometown hero Jurkovic at BRAVE CF 56 in Serbia
TDT | Manama
The Daily Tribune – www.newsofbahrain.com
Former Middleweight world title challenger Chad Hanekom is back at the BRAVE CF Arena and will look to continue his road towards the top of the division against Miro Jurkovic.
The Middleweight bout between Hanekom and Jurkovic is going to take place at BRAVE CF 56, marking the promotion debut in Serbia, the latest step of the organization's European takeover, and the home country of Miro.
Holding a professional record of 7 wins and only two losses, Chad "Superman" Hanekom is coming off a brutal knockout win over Dominic Schober in March, 2021, and is eager to get another crack at the BRAVE CF world title. Miro Jurkovic, meanwhile, boasts a professional record of 11 wins and four losses.
After dominating the local Serbian scene, Jurovic is looking to establish his international career, after winning Fight of The Year honors for his epic fight against Andreas Gustafsson last year in his BRAVE CF debut.