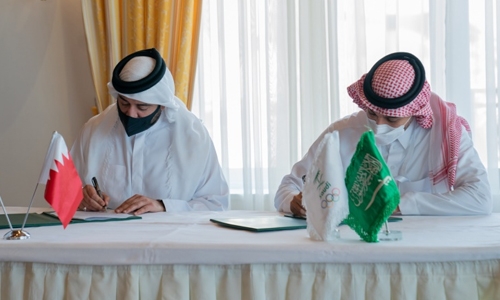 Cooperation Agreement between Bahraini and Saudi Olympic Committees signed
TDT | Manama
The Daily Tribune – www.newsofbahrain.com
The Bahrain Olympic Committee (BOC) has signed a cooperation agreement with the Saudi Olympic Committee, to develop cooperation in various fields of the Olympic and sports movement and to develop close relations between both countries
The agreement was signed by HH Shaikh Khalid bin Hamad Al Khalifa, First Deputy President of the Supreme Council for Youth and Sports (SCYS), President of the General Sports Authority (GSA) and BOC President, and HRH Prince Abdulaziz bin Turki Al Faisal Al Saud, Minister of Sports and President of the Saudi Olympic Committee.
The agreement aimed for developing a cooperative program to help athletes in the two countries to participate successfully in the Olympic Games, cooperate in developing the organizational structure and administrative effectiveness of the two Olympic Committees, organizing mutual visits between athletes and coaches of the two brotherly countries, and discussing the possibility of cooperation with the Olympic Solidarity Committee in order to provide Olympic grants for the players of the two countries.
It also includes exchanging information on the qualification and development of trainers through specialized programs such as the International Coaching Training Enrichment Certificate Program (ICECP), sports medicine programs, technical and sports administrators programs, benefiting from the best applications in the field of sports facilities, especially Olympic training centers, and benefiting from the best applications and methods with regard to training the staff members working in the two committees, with a focus on the areas of leadership, management, and organizational development, researching cooperation in developing sports activities that are under the umbrella of the two committees or concerned federations, cooperation in the fields of sports medicine, anti-doping programs and activities, managing sports events, and many others.
The two committees would cooperate in developing the international Olympic movement, coordinating and consulting on the most important topics and issues of common interest.
HH Shaikh Khalid expressed his great happiness at signing this agreement with the Saudi Olympic Committee, noting that it embodies the close ties and the strong relations that bind the two brotherly countries' leaderships and peoples.
His Highness praised the important role being played by the Saudi Olympic Committee in developing the Olympic movement, which resulted in the achievement of many accomplishments and successes in light of the support and care received by Saudi sports from the Custodian of the Two Holy Mosques King Salman bin Abdulaziz Al Saud and HRH Prince Mohammed bin Salman Al Saud, the Saudi Crown Prince.
HH Shaikh Khalid stressed that Saudi Arabia's success in hosting the 2034 Asian Games is the greatest evidence of international confidence in its position and its active role in advancing the Olympic movement.