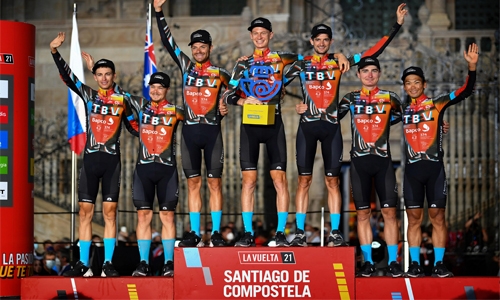 Bahrain Victorious riders shine in gruelling Spanish tour
TDT | Manama
The Daily Tribune – www.newsofbahrain.com
Team Bahrain Victorious rider Jack Haig secured a podium place in the General Classification (GC) of the 21-stage 2021 Vuelta a Espana, part of this year's calendar on the UCI World Tour.
Haig wasn't the only team member to come away with an accolade, as Gino Mader also made it into the top five of the GC while claiming the white jersey for the Best Young Rider distinction. Moreover, the teamwork at the race earned Bahrain Victorious the Best Team Classification award, which was the same prize they had won earlier this year at the Tour de France.
Aside from Haig and Mader, the other Bahrain Victorious competitors in Spain were Yukiya Arashro, Damiano Caruso, Mikel Landa, Mark Padun, Wout Poels and Jan Tratnik.
After the incredible stage 20, it was only a 34km Time Trial to the finish in Santiago de Compostela, separating the riders from solidifying their positions at the start of the day.
With Adam Yates (Ineos-Grenadiers) only a minute behind Haig, it was the biggest threat to the podium place for the Bahrain Victorious ace. Haig put on an impressive display over a challenging parkour with 600m of elevation, defending his lead and securing the third position, finishing 17th on the day, beating Yates.
Bahrain Victorious came into this race with the goal of a podium place, and in the end, the team finished the final Grand Tour of the season with the podium place in the GC, a stage win, the Best Young rider, and Best Team prize.
Following his podium finish, Haig commented: "It's incredible, I was just speaking to my wife saying how you always dream of getting on a podium at a Grand Tour, but I really never knew it was possible or not.
"It's amazing to move to Bahrain Victorious and then having the crash at Tour, and come here with no expectations, and be third on the podium. I have no words for it, and I want to thank everyone who got me here as it doesn't just happen overnight. It's not just a year's work and there are so many people I'd like to thank along the way that helped me.
"I will keep approaching racing the way I do, as long as I'm happy with the right people around me and enjoy it. If you've got that, then the results come, and I couldn't be happier."
Mader was delighted with winning the Best Young Rider award. He said: "Wow, it's unbelievable for me, and the whole thing just fell into my hands yesterday. "I was already happy before with my provisional eighth in GC and being amongst the best climbers in this race.
"Now I'm sitting here in the white jersey having helped Jack on the podium and I'm a little bit lost for words. In the end, it's a fifth place, and there are a lot of really strong riders. It's unexpected and maybe a bit too good, and I take it and I hope it's not my last time in the top five in the GC."