Al Ahli crowned back-to-back basketball champions!
TDT | Manama
The Daily Tribune – www.newsofbahrain.com
Al Ahli's reign on the hardwood continues!. Ahli were last night crowned back-toback champions of the Zain Bahrain Basketball League.
The "Eagles" captured the coveted 2020/2021 title following a 78-69 victory over arch-rivals Manama in the second game of their best-of-three championship series. The result gave Ahli a 2-0 sweep of the finals, which was a repeat of last year's title-deciding match-up when Ahli also beat Manama in two games.
Ahli captured their 19th title in league history, closing in on record-holders Manama who have 22. Following the contest, both teams were presented their respective medals and trophies in an awarding ceremony attended by Bahrain Basketball Association (BBA) president Waleed Al Alawi and other officials. Al Najma representatives were also on hand and they were presented with their bronze medals after finishing the league in third place overall.
Ahli, coached by respected Bahraini tactician Ahmed Jan, took a commanding 75-62 lead with two minutes 31 seconds remaining in the fourth quarter on a Hesham Sarhan three-pointer, but then Manama went on a 5-0 run to get back to within single digits. They were unable to get closer than seven points, however, and Sarhan wrapped things up with two free-throws that pegged the final score with 26 seconds to play. Sarhan and American professional Mike Harris combined for 62 of Ahli's output in the game.
Harris led all scorers with 33 while Sarhan chipped in with 29, including a red-hot six triples. Both players were on the court for the full 40 minutes. Harris also took down 22 rebounds and blocked three shots.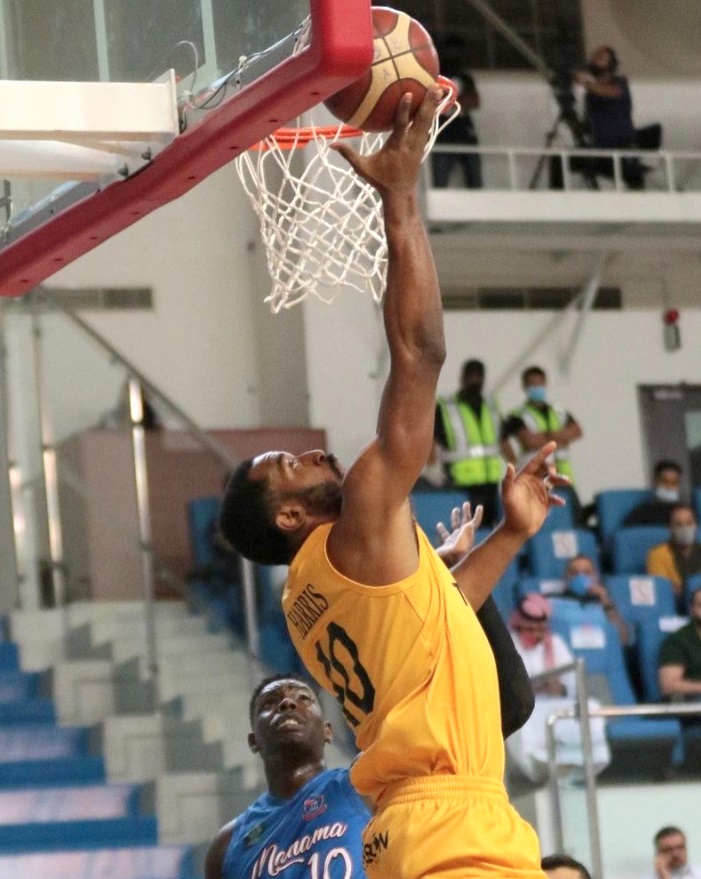 Ahmed Aldurazi added nine points for Ahli, while Maitham Jameel and Subah Hussain had five and two, respectively, as their only other scorers. Hassan Nowrooz paced Manama in the loss with 20.
US import Earl Clark had 16 and 15 rebounds, while Mohammed Hussain contributed 13 and Mohammed Ameer had 10. Ahli came out roaring in the first quarter, which they ended with a 26-13 lead following a Sarhan three-pointer.
But Manama were able to cut the deficit in the second, where they outscored Ahli 23-12, to get to within a single possession, 36-38, at the half. Ahli turned things up after the break and enjoyed their biggest lead of 16 points, 57-41, on an Aldurazi basket, but Manama were able to fight back with a rousing 10-0 run capped by a Nowrooz three-pointer.
Ahli led 63-55 heading into the final canto. The victors then did well to maintain their gap, although Manama stayed within striking distance throughout the period. That later set the stage for Sarhan's back-breaking triple, and Ahli closed things out in style. Ahli, who are also the defending champions of the Khalifa bin Salman Cup, will now be aiming to capture a title double for the second successive season.