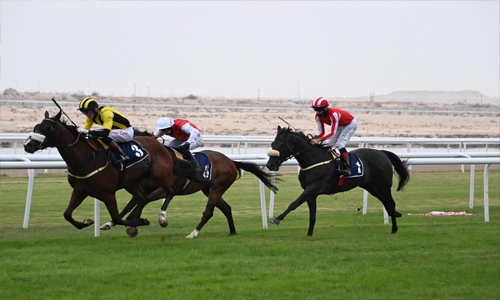 Three GPIC Cups to be won at the races today
TDT | Manama
The Daily Tribune – www.newsofbahrain.com
Eight races are scheduled to be held today at Rashid Equestrian and Horseracing Club (REHC) highlighted by the Gulf Petrochemical Industries Company (GPIC) Cup in the main event.
There will be two other GPIC Cups up for the taking, along with the Late S Sharaf Al Alawi Cup and the Safra Cup.
The final race of the day will be over 10 furlongs, with a prize purse of BD3,000. Tipped with a chance to win are Jazeel competing for owners Victorious, trainer Hesham Al Haddad and jockey David Egan; Desert Lion, representing Isa Mahmood Al Seddiqi, Al Haddad and Callum Rodriguez; and Noble Prospector, racing for Al Afoo Racing Stable, Mohammed Saeed and Lee Newman.
The seventh and sixth races will also be for GPIC Cups. Race seven will be over a six-furlong straight with a BD4,000 prize. It will feature a 14-horse field. Race six is over seven furlongs with a BD3,000 purse. Breathtaking, Pulp Fiction and Dirab are tipped with a chance at victory.
The Late S Sharaf Al Alawi Cup will be up for grabs in the day's fifth race. To be held over eight furlongs, 14 runners will be gunning or the lion's share of the BD2,000 prize.
Meanwhile, the Safra Cup is to be won in race one, set for a six-furlong distance and a BD1,500 prize.
Al Saqlawy 1772, Al Rabda 1749, and Al Hamdany 1746 are considered to have a chance to win.
Elsewhere on today's card, race two will be over a five-furlong straight with a BD2,000 prize and Naahy, Billy the Snake and Lahuog with chance. Race three is over a six-furlong straight with a BD2,000 prize, and Arriba Arriba, Teenar and Garsman are the favourites. The fourth event is over nine furlongs with a BD2,000 prize, with seven horses in the fray.