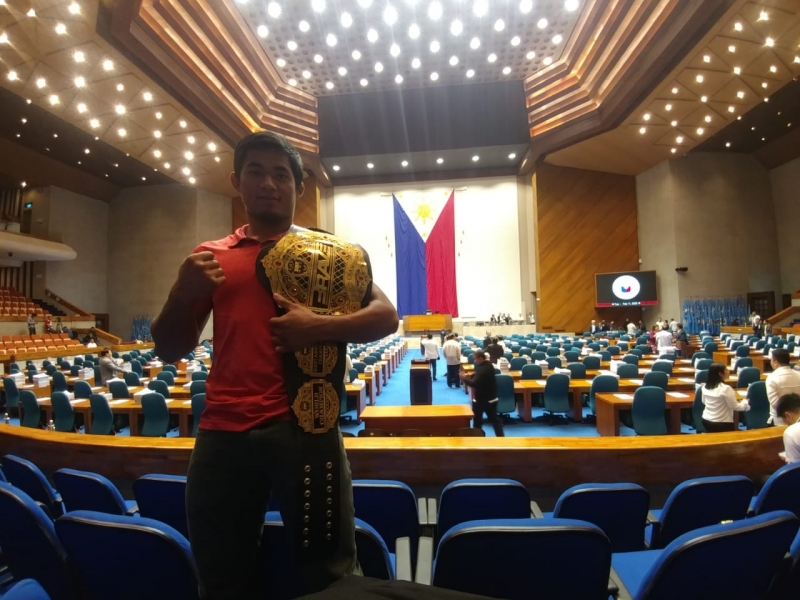 Loman honoured in Philippines' House of Representatives
Stephen Loman continues to receive various honours for his work inside the BRAVE CF Arena, as well as flying the flag of the Philippines around the globe. BRAVE CF's longest-reigning world champion, "The Sniper" has been awarded a special commendation by Congressman Eric Go Yap inside the House of Representatives.
Loman was invited to Quezon City and was praised by Go Yap himself for helping to raise the flag of the Philippines on the international stage and for being the only world champion from the country in the global organization. "The Sniper" was also complimented for his contributions to the District of Benguet, as well as the field of combat sports and mixed martial arts. Stephen has transformed into one of BRAVE CF's biggest stars, having been with the promotion in almost four years.
He made his debut in 2016, and is the only Bantamweight world champion in the history of the organization, and has been recognized as one of the Philippines' finest-ever athletes. "The Sniper" has represented the Philippines in three different regions with BRAVE CF, defending his Bantamweight crown in Europe, the Middle East, and the Subcontinent. He won his title back in November of 2017, when he knocked out Gurdarshan Mangat in the first round, and then defended it in 2018, in Northern Ireland, and Bahrain, as well as his own country and India, with the two most recent victories coming in last year