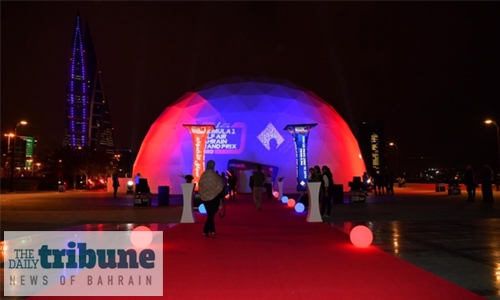 BIC hosts spectacular 7D Hologram show at The Avenues Mall this weekend
Bahrain International Circuit (BIC) has unveiled a spectacular, first-time-inBahrain 7D hologram show that premiered on Wednesday night during the official launch of the Formula 1 Gulf Air Bahrain Grand Prix 2020. The 7D live experience at The Avenues Mall is open to the public till Saturday, from 5pm each day. Entry is free of charge.
The content of the show reflects key elements of this year's race, including a celebration of Gulf Air and F1's 70th anniversary, the BIC's racing and entertainment package, as well as Bahrain's unique culture and heritage. It is located in a special dome next to Gate 3. All are welcome to enjoy this spectacle that has never been seen in the Kingdom, or indeed anywhere in the Middle East.
In addition to the hologram show, a range of other entertainment will keep fans amused, including racing simulators, virtual reality games and coffee and food stands. The show has been brought to Bahrain as part of the highly anticipated launch of the Bahrain Grand Prix, which takes place this year from March 19 to 22 at BIC, "The Home of Motorsport in the Middle East", in Sakhir.
All content for the 7D show has been created using highly specialised technology, never seen before in the Middle East, to give the audience a 360-degree immersive experience that is amplified by the sheer scale of the dome. Hologram technology involves the capturing and recording of light fields that can be viewed without the aid of special glasses.
It scatters a recorded pattern of light and presents the resulting images as an immersive 360 spectacle. The 7D refers to the technology of capturing a high-quality hologram with seven parameters. Each position is in a 3D space, and this position captures viewing direction in 2D space. Additionally, there are two parameters that are captured for each direction, which is time and intensity