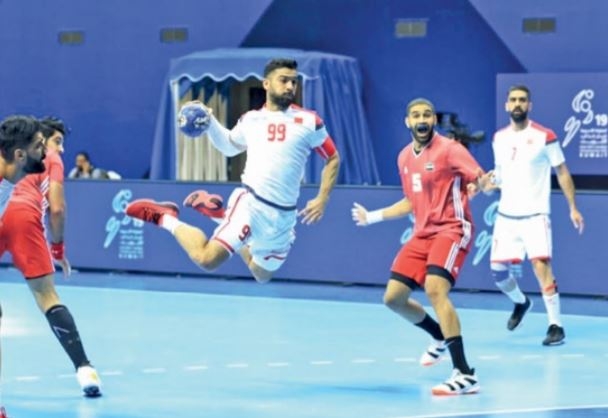 Bahrain powered to a resounding 29-18 victory over the UAE yesterday to begin their Main Round campaign on a positive note in the 2020 Asian Men's Handball Championship, being held in Kuwait.
The Bahrainis are in Group One of this eight-team stage in the tournament alongside the Emiratis, Japan and Saudi Arabia.
They must finish in the top two after a single round-robin to book a berth in the semi-finals and secure their qualification to the 2021 World Men's Handball Championship.
Bahrain took one step forward to achieving both targets with their convincing victory yesterday at Shaikh Saad Al Abdullah Sports Hall Complex in Kuwait City.
The nationals were in control virtually the entire contest and led 15-9 at the half. They maintained their form and controlled the pace of the game the rest of the way, en route to sealing the big win.
Ali Eid and Ali Mirza finished as Bahrain's leading goal-scorers with four apiece. Team captain Hussain Al Sayyad and Ahmed Fadhul added three goals each, while finishing with two were Bilal Askani, Ahmed Almaqabi, Jassim Alsalatna, Mahdi Saad and Mahmood Mohammed.
Abdulla Ali, Mohammed Abdulredha, Mohammed Mirza, Hassan Al Fardan and Mohammed Habib fired in one goal apiece.
At the end of the contest, Al Sayyad was named the Player of the Match and he was presented with a trophy by an official from the tournament committee.
The Bahrainis are scheduled to return to action today when they take on Japan at 2pm, Bahrain time. The UAE and Saudi face-off in the day's other Group One fixture at 4pm.
In yesterday's other Group One game, Japan also made a winning start after beating Saudi Arabia 30-22. The Japanese led at the half 16-10.
Bahrain are gunning for their first-ever title in the Asian championship. They have finished as silver-medallists four times in the past, including the last three editions of the tournament.
Group Two in the Main Round consists of defending champions Qatar, Iran, South Korea and hosts Kuwait.
Following the Main Round, the top two teams from each group march on to the final four, which is scheduled for Saturday. The final will then be held on Monday along with the bronze medal game.
The Asian championship also acts as the continental qualifying tournament for next year's world championship in Egypt. The four semi-finalists will all earn berths in the competition.