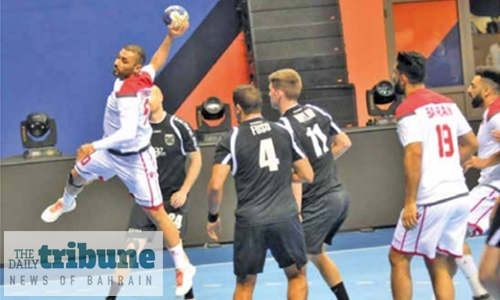 Bahrain make easy work of New Zealand
Bahrain made an emphatic start to their campaign in the 2020 Asian Men's Handball Championship yesterday with a 45-16 hammering of New Zealand at Shaikh Saad Al Abdullah Sports Hall Complex in Kuwait City. Both teams are in Group A of the tournament's preliminary round along with Iran.
The Bahrainis' fine start put them on top of the division table. Bahrain were in control of the contest from the very start, and they enjoyed a commanding 21-8 advantage at the half. They kept their foot on the gas the rest of the way and never allowed their rivals into the fight en route to the lopsided 29-goal victory.
All but two of Bahrain's players made it onto the scoresheet. Ali Eid finished as Bahrain's top scorer with eight goals, while Mahdi Saad added seven. Ahmed Jalal had six and Bilal Basham Askani chipped in with four goals. Hassan Al Fardan had three while Abdulla Ali, Mohammed Mirza, Ahmed Almaqabi, Mahmood Hussain, Mohammed Habib and captain Hussain Al Sayyad all had two goals apiece.
Mohammed Abdulredha and Jassim Al Salata rounded out Bahrain's scorers with a goal apiece. Luke Ireland led New Zealand with four goals, while Paul Ireland had three. Bahrain are gunning for their first-ever title in the Asian championship. They have finished as silver-medallists four times in the past, including the last three editions of the tournament.
The Bahrainis are scheduled to return to the playing court tomorrow when they take on Iran to complete their preliminary round campaign. Thirteen teams are competing in the Asian championship in Kuwait City. They have been divided into four groups for the preliminaries. Group B features Qatar, Japan and China; Group C includes South Korea, Saudi Arabia and Australia; and Group D consists of the UAE, Hong Kong, Iraq and hosts Kuwait.
The top two teams from each group at the end of a single round-robin move on to the next phase. This ensuing main round will feature eight teams in all, to be divided into another two groups and another single round-robin. The top two then march on to the semi-finals, scheduled for January 25.
The final match will then be held on January 27 along with the bronze medal game. The Asian championship also acts as the continental qualifying tournament for the 2021 World Men's Handball Championship. Each of the competition's four semi-finalists will book their tickets to the worlds, set to take place in Egypt in January of 2021.