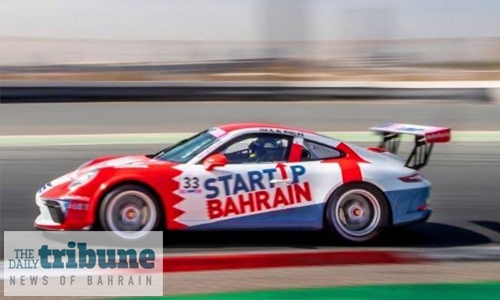 Koehler wins Porsche race two after Hanses takes season opener
Leon Koehler narrowly missed out on a double yesterday in the weekend's first two races of the Porsche Sprint Challenge Middle East, held in support of the FIA WEC Bapco 8 Hours of Bahrain at Bahrain International Circuit. Koehler won race two but was the runner-up of race one after brilliantly battling back from stalling at the start.
Fellow-German Julian Hanses thus took the chequered flag in the opening sprint. In race two, Koehler won from pole with a comfortable 7.784-second gap from runner-up Saul Hack from South Africa, while Berkay Besler from Turkey was third 8.068s back. All three were top in both the overall classification and in the Pro class.
The ProAm category was clinched by Jesse Van Kuijk from the Netherlands ahead of Team Bahrain's Shaikh Ali Al Khalifa, while Team Bahrain's other participant Shaikh Jabar Al Khalifa won the Am class. Meanwhile, Hanses clinched the narrowest of victories in the first race. He won by just 0.004 seconds, while third-placer Besler was just 0.293s behind.
JB Simmenauer finished fourth while Richard Wagner rounded out the top five, all of whom were in the Pro class. Taking the ProAm win was Van Kuijk while first in the Am category was Shaikh Jaber. A third race will take place at 1.10pm today to wrap up the season-opening round of their 2019/2020 campaign.
The winners were awarded in a podium ceremony attended by BIC Chief Executive Shaikh Salman bin Isa Al Khalifa and McLaren Racing Chairman Shaikh Mohammed bin Essa Al Khalifa.