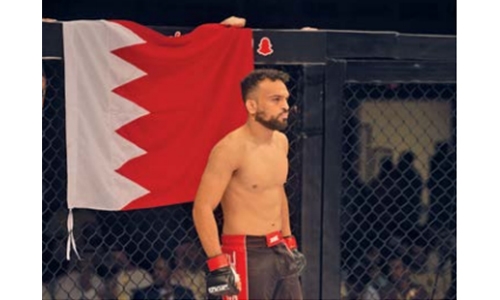 Kooheji: a pioneer and star for Bahrain
Aptly nicknamed "The Pride of Bahrain", Hamza Kooheji has been one of the stalwarts of the Kingdom around the world since he first made his mixed martial arts debut. As he prepares for the biggest fight of his life, Kooheji will be representing Bahrain in the biggest stage, in front of his fans and family. Hamza will take on Nahuel Gandolfi, from Argentina, in the co-main event of BRAVE CF 29, the Bahraini-born promotion's biggest show of the year.
The placing of his fight on the card shows how far he's come. Initially, Kooheji started martial arts training to lose weight and have a more healthy life. However, he found more than that, as fighting became his lifestyle. Hamza has been trained by current BRAVE CF president Mohammed Shahid and his brother Yousif Kooheji.
He caught the eye of HH Shaikh Khalid bin Hamad Al Khalifa while winning several bouts in the Middle East and taking the flag of Bahrain to the highest spots in the Gulf. As BRAVE Combat Federation went from HH Shaikh Khalid's dream to reality, signing Kooheji was a matter of time. He was in action in the first-ever BRAVE CF event, which took place in September of 2016, beating Mohamed Mashaly by submission.
With the help of Eldar Eldarov, Team Bahrain and KHK MMA head coach, Hamza became a well-rounded fighter and started to blossom into one of Bahrain's heroes. He represented the Kingdom in Indonesia, Abu Dhabi, and Saudi Arabia, and will go back home for the most important bout of his life. A win over Gandolfi will put him ever closer to a title shot in the Bantamweight division. However, the biggest win for Hamza is and always will be his contribution to putting Bahrain on the top of the mixed martial arts world.