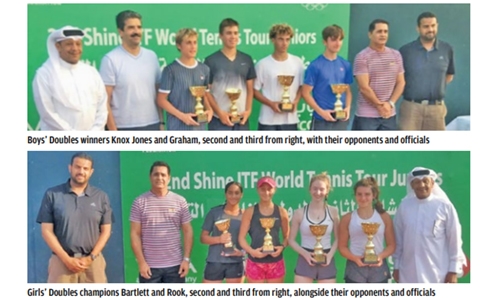 Bartlett-Rook claim girls' doubles title
Aryana Bartlett and Olivia Rook were crowned Girls' Doubles champions for the second week in a row yesterday after claiming the coveted title in the second Shine Bahrain Super Series ITF Junior Championship, played at the Bahrain Tennis Federation (BTF) courts in Isa Town.
The British duo captured their winners' trophies following a 6-0, 6-3 decision against the Egyptian pair of Jermine Sherif and Mariam Atia in the final. Bartlett and Rook made it two wins from two tournaments here in Bahrain in as many weeks. They had also claimed the Girls' Doubles title in another ITF tournament held in the Kingdom.
The result yesterday earned them their second championship on the International Tennis Federation's (ITF) World Tennis Tour Juniors circuit. Meanwhile, the pair of Alexander Knox Jones and Archie Graham emerged as the winners of the Boys' Doubles title following a 6-4, 6-3 victory over Mark Owen Endler of Germany and Pablo Trochu of France.
Knox Jones and Graham were able to get their revenge over their opponents, whom they lost to last week in their final of the other ITF tournament held in Bahrain. After both of yesterday's doubles finals, the winners and runners-up were presented their respective trophies by BTF Vice-President Shaikh Abdul Aziz bin Mubarak Al Khalifa, BTF Secretary General Fuad Al Rowaie, and other high-ranking BTF officials.
Meanwhile, Rook will have a chance to claim a fantastic title-double after she booked her seat last night in the Girls' Singles final. Rook upset top seed Hagar Ramadan of Egypt 7-6 (2), 6-0 to march through. She will now meet her doubles opponent Sherif in yet another championship battle. Sherif denied Rook a final against her teammate Bartlett, whom she defeated in their semis clash 1-6, 7-5, 6-4. The Girls' Singles final is scheduled to take place at 2pm today, which is the tournament's final day. In the Boys' Singles, the final will be between Trochu and Nicolas Moser of Austria.
Trochu earned his spot following a 6-2, 7-6 (5) victory over Briton Matteo Fuschillo, while Moser beat Graham 6-2, 6-3. The boys' final is scheduled to start not before 3pm following the girls' title bout. All are welcome to attend and watch the two finals.