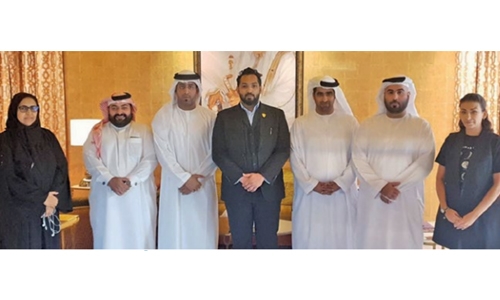 Bahrain, UAE look to extend relations to combat sports
The Kingdom of Bahrain played host to a pivotal meeting regarding the future of combat sports in Asia and beyond. KHK Sports CEO Mohammed Shahid met with officials from the UAE Muay Thai and Kickboxing Federation in the presence of Ahmed Al-Wazzan, president of Bahrain Kickboxing Federation, as the parties discussed ways of developing all combat sports in the region.
The UAE Muay Thai and Kickboxing Federation is held under the patronage of His Highness Shaikh Mansour bin Zayed Al Nahyan, the deputy prime minister for the United Arab Emirates, while KHK Sports is an organization that represents the vision of His Highness Shaikh Khaled bin Hamad Al Khalifa and all his collective efforts toward the development of a global ecosystem for all sports, including mixed martial arts and other combat sports. Attending the meeting on behalf of UAE was Yasser Salem Al Saadi, the vice-chairman for the federation.
He was joined by Tareq Al Mheiri, board member and executive director of the federation, aside from being a member of the executive board at IFMA (International Federation of Muaythai Associations), the Head of Activities department, Fahad Khalfan Al Abduoli, who's also a board member, as well as Farah Salem Saeed, a board member for the federation. The discussion revolved around mutual contributions that could be made between two giants of the combat sports scene worldwide, in order to develop all sports in Asia and beyond.
Bahrain and the United Arab Emirates want to make sure their great relationship in all areas can also extend to the development of combat sports. "It was a very productive meeting as we look to strengthen the development of combat sports across the Arab world, Asia, and beyond. I look forward to continuing that special relationship with the shared goals of improving and developing combat sports", said Shahid. Al-Wazzan received an open invitation from the Federation to send a Bahrain team to the next tournaments in the organization's calendar.
"It's great to see GCC nations joining hands in order to develop combat sports in the region and beyond. I'm excited for the next steps of this collaboration", said Al-Wazzan. Between September 5th and 7th, the UAE Federation will host the Muay-Thay Open Championship in Yas Island, and the Asian Muay Thai Championships will also take place in UAE, between December 16th and 22nd.
The Bahrain Federation was invited to send a team to both tournaments, marking the start of a long and prosperous collaboration between the two friendly countries also on the field of combat sports.