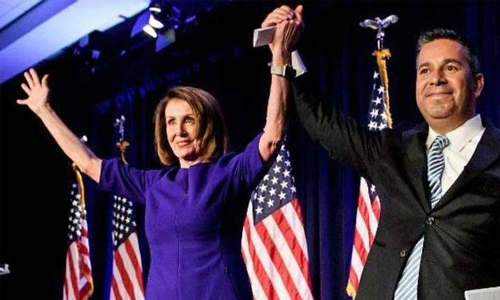 Democrats celebrated their return to the majority in the US House of Representatives yesterday in a midterm rebuke to President Donald Trump, who still escaped a feared "blue wave" as his Republicans bolstered their Senate majority after a polarizing, racially charged campaign.
Heralded by Trump as a "tremendous success," Tuesday's Republican Senate victories will all but end any immediate talk of impeachment, even as the Democratic-led House will enjoy investigative powers to put new checks on his roller-coaster presidency. Trump took to Twitter to hail his party's performance and declare victory.
"Received so many Congratulations from so many on our Big Victory last night, including from foreign nations (friends) that were waiting me out, and hoping, on Trade Deals," Trump wrote yesterday. "Now we can all get back to work and get things done!" He was set to give his first post-election press conference at in the White House, spokeswoman Sarah Sanders said.
Network projections said Democrats would take control of the House for the first time in eight years, upending the balance of power in Washington, where Trump enjoyed an easy ride following his shock 2016 election with Republican dominance of both chambers. Democrats were on course to flip at least 27 seats from Republican hands, with strong performances among suburban white women who had narrowly turned to Trump two years ago and in key battleground states such as Pennsylvania.
In the 100-member Senate, with final, complete results not yet tallied, news reports said the Republicans had won at least 51 seats. Representative Nancy Pelosi, who is likely to return as speaker of the House despite opposition from some centrist Democrats, promised that the party will serve as a counterweight -- but also work with Trump.