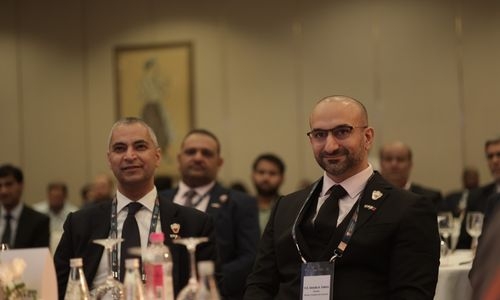 Bahrain and India strengthen economic ties
TDT | Manama
The Daily Tribune – www.newsofbahrain.com
Bahrain's high-level delegation successfully concluded its official visit to India, which the Industry Minister said, "will pave the way for a more strategic partnership."
The visit, which took place from March 14th to 17th, included stops in New Delhi and Mumbai and featured the signing of a Memorandum of Understanding between Export Bahrain and the Confederation of Indian Industry (CII).
The Minister of Industry and Commerce in Bahrain, Abdulla bin Adel Fakhro, and Bahrain's Ambassador to India, Abdulrahman Mohammed Al Qaoud, were present at the signing to increase bilateral trade between the two entities.
The visit, supported by the Ministry of Industry and Commerce and the Bahrain Economic Development Board, aimed to highlight key investment opportunities in Bahrain and strengthen bilateral trade relations between the two countries.
Over 60 representatives from various public and private sector entities, including the MOIC, Bahrain EDB, Bahrain Chamber of Commerce and Industry, Bahrain Tourism and Exhibition Authority, and Export Bahrain, along with several leading Bahrain-based businesses and business societies, were part of the delegation.
The investment and trade opportunities highlighted by the delegation focused on Bahrain's financial services, manufacturing, Information and Communication Technology (ICT), logistics, and tourism sectors, in line with the Economic Recovery Plan (ERP). Abdulla bin Adel Fakhro described the visit as crucial for achieving the goals set under Bahrain's Economic Recovery Plan.
Khalid Humaidan, Chief Executive of the Bahrain Economic Development Board, emphasized the long history of cooperation between India and Bahrain and the importance of continuing to focus on driving investment into key sectors of Bahrain's economy.
The visit included sessions and activities with key Indian government officials, business representatives, and potential investors, such as the 2023 Partnership Summit hosted by the Confederation of Indian Industry (CII) in New Delhi.
The delegation also attended two key networking events hosted by Bahrain EDB and supported by the Bombay Chamber and CII in Mumbai.
According to the latest statistics, trade between both countries reached USD 1.4 billion in 2022, and Inward FDI stocks of India to Bahrain reached USD 1.4 billion as of Q3 of 2022, accounting for around 4% of Bahrain's total FDI stock of USD33.9 billion.