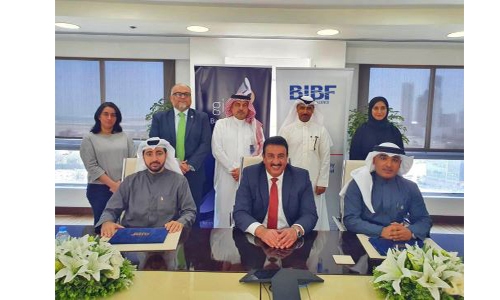 gig Bahrain, Takaful and BIBF launch graduate development programme
TDT | Manama
The Daily Tribune – www.newsofbahrain.com
Bahrain Kuwait Insurance Company (gig Bahrain) and Takaful International announced launching their first Graduate Development Programme on Sunday. The programme designed in strategic partnership with the Bahrain Institute of Banking and Finance will provide fresh graduates with the technical knowledge and competencies to start their career in Insurance.
The talent management programme aims at providing a unique career opportunity to fresh graduates seeking a professional career in Insurance. The programme will run for 9-12 months and aims at delivering a high-end on-the-job learning exposure both in Bahrain and abroad.
It is complemented by professional qualifications in Insurance and Digital Transformation, such as the Award for Certified Insurance Practitioner (ACIP) and the Digital Transformation Essentials for All.
Successful trainees with exceptional performance will qualify for an internal career opportunity within each of the respective companies. BIBF "MyClass" e-learning platform will deliver the sessions. Commenting, CEO of gig Bahrain, Dr Abdulla Sultan said, "We're delighted to partner with the BIBF as a leading authority in Insurance training in the region, to extend our support towards developing the future Bahraini workforce to gain important knowledge and marketable experience in their area of study."
Essam Al Ansari, the CEO of gig Takaful, said they are looking forward to welcoming the students and "wish them all the best for joining us."
BIBF Director, Dr Ahmed Al Shaikh, said, "The insurance industry is facing one of the most profound disruptions in decades.
Therefore, it is crucial to develop the best talent pool to bridge the digital skills gap and help empower the Kingdom's Insurance sector."
Candidates, who are eligible and interested, can visit the respective Instagram pages and follow the instructions on the GDP post: @gigbh and @takafulbh.