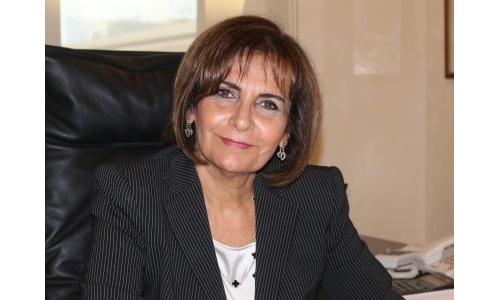 Mona Almoayyed a prominent Arab model for successful businesswomen: Ebdaa Bank
TDT | Manama
The Daily Tribune – www.newsofbahrain.com
Ebdaa bank for Microfinancing – Bahrain, said that its chairman, Mona Yousuf Khalil Almoayyed, is maintaining her advanced position among the top 100 most powerful Arabs in finance and business, thereby becoming a model for successful Bahraini entrepreneurs and businesswomen.
Recently, Mona Almoayyed, the CEO of Y.K. Almoayyed & Sons were selected by Gulf Business magazine as one of the most 'powerful' Arab personalities for the year 2021.
She was the only Bahraini businesswoman in this list alongside three other men, Khaled Al-Rumaihi, the CEO of Mumtalakat Holding Company, Adel Ali, the CEO and Member of the Board of Directors of Air Arabia and Mishaal Kanoo, the Chairman the Kanoo Group.
Dr Khaled Al Ghazzawi, the CEO of Ebdaa Bank, congratulated Mona Almoayyed for her contributions to the development of work in the institutions she manages, the prominent role in ensuring the stability of these companies and enhancing their ability to expand and achieve commercial viability and sustainability.
"We are celebrating another appreciation for Mona Almoayyed from a specialized regional magazine, and we shouldn't overlook that for many years that she maintained her position at the top of Forbes annual list of the most powerful businessmen.
This confirms her great contribution to the development of the business sector in Bahrain at the level of family and private companies," Dr Al Ghazzawi said.