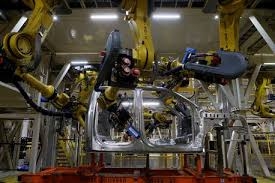 US cos cut back on installing robots in 2019
US companies installed fewer robots in 2019 than they did the year before, the first cut back since 2015, as a downturn in manufacturing fueled by trade wars and weaker demand dampened appetite for the machines. Shipments fell to 23,758, a more than 16 per cent drop, according to data seen by Reuters that was set for release on Tuesday by the Association for Advancing Automation, an industry group based in Ann Arbor, Michigan. Robot shipments also fell in Mexico last year, declining 25pc to 3,263, while shipments in Canada roughly held steady at just over 3,000 units.
A major goal of President Donald Trump has been to drive manufacturers to bring work back to the United States, presumably aided by new automation and robotics that would allow domestic plants to compete with cheaper labor in China and other lower-cost countries. But that trend appears to have been overwhelmed by a larger slowdown in manufacturing. Alexander Shikany, vice president of the Association for Advancing Automation, said the slowdown is likely to be short lived.