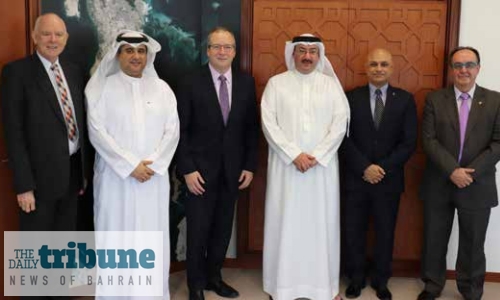 RERA committed to enhancing efficiency, says Chief Executive
A top Real Estate Regulatory Authority (RERA) official yesterday said the authority is committed to implementing international best practice in all aspects of its operations. Shaikh Mohammed bin Khalifa Al Khalifa, Chief Executive Officer of the Real Estate Regulatory Authority (RERA), was holding a meeting with leading experts in the field of Owners Associations.
Tom Skiba, CEO of Community Associations Institute, USA, Pepe Gutierrez, CEO MegaFincas, community association management, Spain and Jeevan D'Mello, Owners Association expert and Chief Transformation Officer, Zenesis Corporation, United Arab Emirates, took part. Shaikh Mohammed expressed his happiness in welcoming experts from all over the globe to Bahrain.
He said that sharing international "experiences and knowledge with our local real estate practitioners is an important step in building expertise in the Kingdom of Bahrain." Moving on, he said Riffa Views has held an Owners General Assembly on 7 December and appointed an Owners Association Board of Directors, which is a milestone moment.
Tom Skiba, CEO of Community Associations Institute, USA, which has over 43,000 members involved in the Owners Association field, welcomed the opportunity to collaborate with RERA Bahrain and the local real estate practitioners. The Owners Associations experts took part in a panel discussion on 'Owners' Associations – getting it right for all stakeholders".
The event was part of the RERA seminar series held in conjunction with the BIPEX international property exhibition event from 7th to 9th December at the International Exhibition Centre.