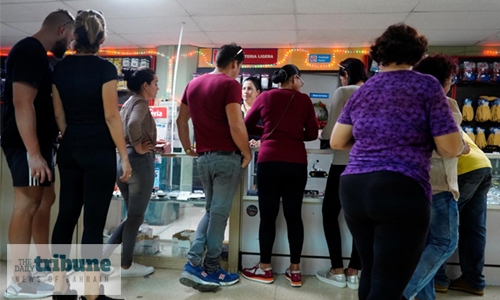 Cuba takes another swipe at dual currency system
Two Havana department stores began yesterday to give change only in pesos, instead of the local dollar equivalent known as the convertible peso, in another step toward ending Cuba's dual monetary system.
The Central Bank, in a brief note published by state-run media, termed the measure an experiment that could be extended to other establishments in the future. "Depending on the results and effectiveness of the experiment, its gradual extension to other commercial establishments in Havana and the rest of the provinces will be evaluated," the Central Bank said.
There are currently two currencies circulating in Cuba, the peso and the convertible peso, which is valued at 24 pesos. The exchange rate has not changed in more than a decade and the government claims the convertible peso is equal to the dollar, but imported appliances and other goods, when available, often have huge markups as they are purchased in tradable currencies while the peso and convertible peso have no value abroad.
Cubans are largely paid the equivalent of less than 100 dollars per month in pesos, irritating the population, which is often charged convertible pesos at retail outlets.