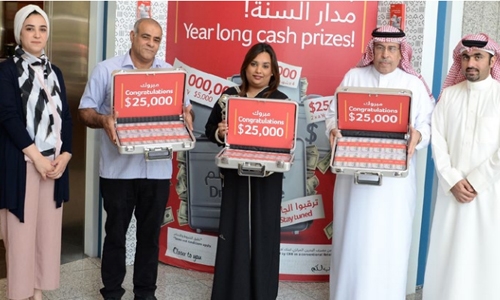 National Bank of Bahrain names Al Watani May winners
The National Bank of Bahrain (NBB) yesterday named the winners of its "Al Watani Savings Scheme" monthly prizes for May 2019 at a ceremony held in its main branch in Manama. The winners, who won US$25,000 in cash each, are Layla Ahmed Alnajdi, Hayah Isa Mehaiza, Sayed Hashem Alsaken and Mariam Abdulla Ali.
"It is natural for a person to rejoice in such happy and joyous news and I would like to thank the Bank for its efforts in bringing joy to the hearts of the winners," said winner Sayed Hashim. While Hayah Al-Mehaiza's family expressed her thanks and appreciation for this joyful surprise. Commenting, Nabeel Ahmed Mustafa, Acting- Head of Retail Banking at NBB, said, "We are delighted to be offering yearlong cash prizes to our saving accounts' customers.
It also gives us pleasure to announce the upcoming June prize worth of US$1,000,000 in cash in addition to a five-year monthly salary of US$5,000, an exceptional prize that can change the life of the lucky winner this summer". Qualifying customers with their Savings and Savewave (kids/youth) accounts enter the draws automatically, and the average monthly balance in the account enters the draw.
While the eligibility criteria for the monthly and the semi-annual prizes, is an average monthly balance of BD50, customers with a minimum average monthly balance of BD1,000 or more in the same accounts will be eligible to win all monthly, semi-annual, grand midyear prizes as well as the yearend Dream Prize.