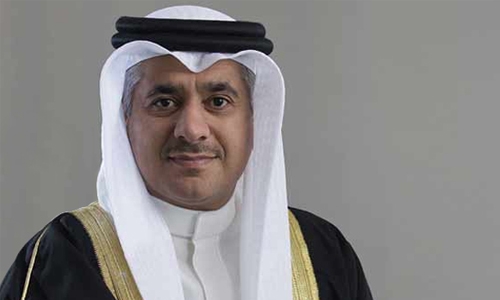 Batelco completes legal separation
The Minister of Transportation and Telecommunications, Kamal Ahmed, announced the completion of Batelco's legal separation process in the implementation of the 4th National Telecommunication Plan (NTP4). This announcement was made during a press conference held yesterday in the presence of Batelco Chairman, Shaikh Abdulla bin Khalifa Al Khalifa, Acting Director of TRA, Shaikh Nasser bin Mohammed Al Khalifa, Batelco board members, executive management, stakeholders and officials from concerned parties.
"The new infrastructure company will work with the government to create a fibre optic network providing residents in all areas of the Kingdom with high-speed internet access. These developments come in line with the Economic Vision 2030, which focuses on the provision of high-quality services in the Kingdom of Bahrain and will achieve the government's vision of the 4th National Telecommunications Plan," the minister said. Batelco has recently announced the appointment of Mohamed Bubashait as the CEO of the new infrastructure company for National Broadband and Mikkel Vinter as the new CEO of Batelco Bahrain, which will be the entity responsible for the retail and enterprise operations.
The two separate entities will remain under the ownership of Batelco. Batelco Chairman, Shaikh Abdulla bin Khalifa Al Khalifa confirmed the completion of the legal separation, including the restructuring of the executive management teams, separation of operations systems and human resources, in line with the NTP4 telecommunication guidelines and TRA Regulations. Shaikh Abdulla said: "We also want to confirm that the restructuring of the Company, as part of the NTP4, is going to create new horizons for Batelco and opportunities to invest in digital technology and furthermore, create new and diverse revenue streams which are in line with the Kingdom's vision for the growth of the digital economy."
Acting General Director of the TRA, Shaikh Nasser bin Mohammed Al Khalifa said, "The legal separation project reflects the vision of His Majesty the King, His Royal Highness the Prime Minister and the Crown Prince, Deputy Supreme Commander and First Deputy Prime Minister to develop the growth and economic diversification of the telecommunication sector."
"Through the regulatory framework of the 4th National Communication Plan, the success of this project is based on the competition of providing high-speed internet for the benefit of the consumer in order to provide them with unprecedented speeds of broadband services and support the business sector in order to make the Kingdom of Bahrain a strategic investment destination and a regional hub for trade and ICT," he added.