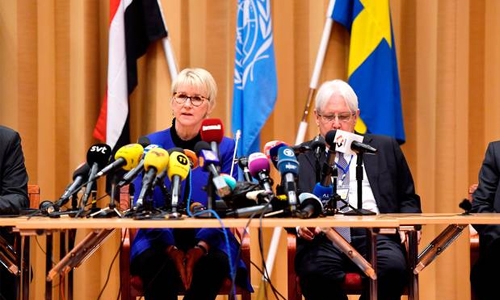 UN-backed Yemen talks open in Sweden
Peace talks between the Yemeni government and Houthis militias opened yesterday in Stockholm, Sweden which is slated to last for one week. Opening the talks at a castle in Rimbo, a town north of Stockholm, Sweden's foreign minister, Margot Wallstrom, wished the Yemen adversaries strength to find "compromise and courage" as they embark on the difficult task ahead. "Now it is up to you, the Yemeni parties," she said.
"You have the command of your future." The UN envoy for Yemen Martin Griffiths said the coming days were a milestone and urged the parties not to "waver... let us work in good faith ... to deliver a message of peace." "There is a way we can resolve the conflict," Griffiths said, adding that the Security Council was "united" in its support for a resolution to the conflict. Griffiths added that he is grateful for the role that Saudi Arabia played in supporting the Yemeni peace talks.
"I'm also pleased to announce the signing of an agreement on the exchange of prisoners, detainees, the missing, the forcibly detained and individuals placed under house arrest," Griffiths said. "It will allow thousands of families to be reunited, and it is the product of very effective, active work from both delegations." The government and Huthis on Tuesday said they agreed to a prisoner swap, to be overseen by the International Committee of the Red Cross, after the Sweden talks.
The UN envoy stressed the fact that the peace talks will also discuss several aspects of the Yemeni people's situation including ensuring aid deliverance. Griffiths added that the possibility of direct meetings between the government and Houthi militias are still being looked into. Regarding Sanaa's airport, the UN envoy said that they have a proposal to discuss with the conflicting parties of Yemen.
Griffiths also spoke about the priority UN goal being easing the tension in Yemen and then reach a political solution. Griffiths' plans to host talks in Geneva in September collapsed on the opening day after the rebels refused to leave the Yemeni capital.