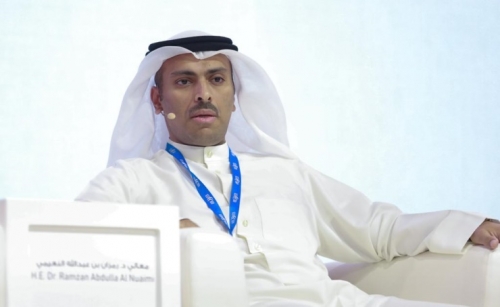 Information Minister takes part in Arab Media Forum
Agencies | Abu Dhabi
The Daily Tribune – www.newsofbahrain.com
Information Minister Ramzan bin Abdullah Al Noaimi participated in the 21st Arab Media Forum, which was held under the patronage of His Highness Shaikh Mohamed bin Rashid Al Maktoum, the UAE Vice President, Prime Minister, and Dubai Ruler.
The forum was attended by over 3,000 influential media personalities, ministers, and heads of leading local, Arab and international media organisations, as well as thought leaders, intellectuals and writers The minister took part in a session on "Dialogue Between Arab Information Ministers", where he highlighted that Arab countries are having a direct confrontation with extremism and hate speech, in light of the multiplicity of unconventional media tools.
He recalled the fallen servicemen who lost their lives while performing their national duty on the Saudi borders while participating in the Bahrain Defence Force (BDF) taskforce, which is part of the Arab Coalition leading operations Decisive Storm and Restoring Hope, praying to Allah Almighty to rest the souls of the fallen servicemen in eternal peace, bless their relatives with patience and fortitude and grant the injured a speedy recovery.
He said that the Houthi aggression was carried out during the United Nations' truce without considering Yemen's interests or peace efforts in the region. Al Noaimi affirmed the importance of media in supporting the efforts of Arab countries to achieve stability and development, as well as the importance of developing a media that is aligned with Arab development plans.
He noted that the Arab media today possesses all the necessary capabilities and competencies to keep pace with the current regional and international changes, which makes it essential that the information we receive is credible, professional, and accurate.