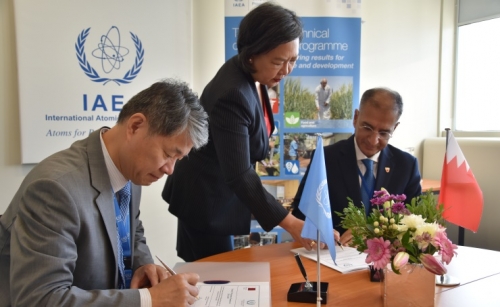 Bahrain signs IAEA cooperation deal
Agencies | Vienna
The Daily Tribune – www.newsofbahrain.com
Ambassador Yusuf Abdulkarim Bucheeri, the Director-General of Legal Affairs and Human Rights at the Ministry of Foreign Affairs, and Hua Liu, International Atomic Energy Agency (IAEA) Deputy Director General and Head of the Department of Technical Cooperation, signed Bahrain's Country Programme Framework (CPF) for the period of 2024-2029.
The CPF identifies seven priority areas: legal framework, nuclear and radiation safety and nuclear security, food and agriculture, human health and nutrition, water resources, and environment, energy and industry, and strengthening the national capacity in nuclear science and technology.
Ambassador Bucheeri welcomed the opportunity to enhance national awareness about potential future projects based on an analysis of Bahrain's current situation, which was studied by specialised government agencies in the Kingdom in cooperation with the IAEA.
The IAEA Deputy Director General stressed the importance of continued cooperation between Bahrain and the Agency to maintain the level of political and technical coordination to serve the interests of the Kingdom and the Middle East region.