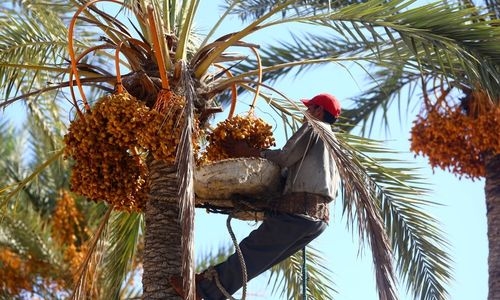 Dates to the fore as Ramadan is around the corner
TDT | Manama
The Daily Tribune – www.newsofbahrain.com
Report by Zahra Ayaz
Breaking the fast with dates has been a tradition since the time of Prophet Muhammad (PBUH).
This blessed fruit is also mentioned in the Quran, Islam's holy book, highlighting its significance in Islamic culture. Besides, dates are also known for their nutrients, including fiber, potassium, and iron, and are an excellent source of energy.
They are also a symbol of generosity and hospitality and are often shared with family, friends, and the less fortunate.
Consequently, when the month of Ramadan approaches, dates become a popular commodity in markets, where they arrive in different types and flavours.
Vendors in Bahrain say they have noticed a significant increase in demand for the past two weeks, which is expected to continue to surge in the coming days.
They said over the past three years, there has been a decline in demand for dates.
However, this year, there is a high demand as people are purchasing them as gifts along with dry fruits, as well as for the occasion of Ramadan.
Statistics also show that Ramadan accounts for nearly 40% of the annual sales of dates in Bahrain, which are imported in tons from countries like Saudi Arabia, Iraq, Oman, and Algeria.
Maria, a seller at Palace of Dates, told The Daily Tribune: "With Ramadan approaching, many of our regular customers are buying, and some will even purchase in bulk, two to three days before Ramadan begins to ensure that they don't run out of stock."
Generally, demand has increased throughout the year, not solely during Ramadan, and during this holy month, many date shops also offer deals such as buy two, get one free or discounts.
She also confirmed that prices are the same in almost every shop, where the most expensive and in-demand date is Ajwa, which costs around 3-5 BD.
There are several other popular types of dates available, including Sari, priced at 1 BD, Salaj, priced at 900 fils per kg, Sagai, priced at 1.5 to 3 BD, Safawai, priced at BD 2–5, Sukkari, priced at BD 1–5, and Medjool and Hudry, priced at approximately 5 BD.
Danish Mohammed, the owner of Danish Food Stuff, one of the oldest shops in Manama Souk, stated that their business has been operating for a significant period, with his father starting with one shop and now having seven shops in different locations.
"Ramadan provides a significant advantage for our business, as many people visit the shop to purchase dates."
While some dates are imported from other countries, others are freshly cultivated by farmers within the Kingdom.
Our customer base is diverse, with both expats and Bahrainis showing a love for purchasing dates.
We are well-prepared for the upcoming week, as the demand during Ramadan typically causes items to sell out rapidly. Obviously, we will offer discounts, and in addition to dates, many consumers will purchase dried fruits and chocolates throughout Ramadan."