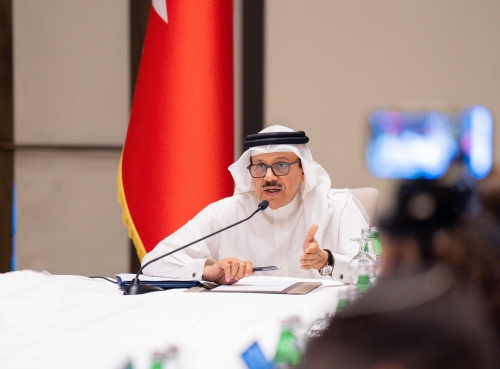 Trade and peace pillars of Bahrain and Israel relations
TDT | Manama
The Daily Tribune – www.newsofbahrain.com
Reported by Zahra Ayaz
Trade and peace are the two key pillars of relations between Bahrain and Israel, said Foreign Minister Dr Abdullatif Al Zayani yesterday at a press conference held at Four Seasons on the sidelines of the visit of Israeli President Issac Harzog to the Kingdom.
Israel President Issac Harzog arrived yesterday in the Kingdom, the first visit by the Israeli head of state since the two countries normalised relations in 2020. Speaking at the press conference, Dr Al Zayani stressed on the Kingdom's firm position in support of achieving a just comprehensive and sustainable peace that guarantees the legitimate rights of the Palestinian people.
"We ought to have a thriving firm that makes a significant contribution to both regional and global relations. This will enable religious and cultural diversity among Bahrainis. We also emphasise the Abraham Accords' two-state option, which provides the Palestinians with a guarantee of peace," Dr Al Zayani said.
He emphasised that signing between two nations will have a significant impact on research, education and peace. He urged nations to work together in the future to produce accomplishments and strengthen peace by ensuring that these good deeds continue and inspire others to participate.
"I firmly believe in peace and will work with the government to reaffirm the idea of peace in which people can live side by side regardless of religion or ideology. I also think that Israel as a nation wants peace, and that the government will endeavour to make that happen," the Foreign Minister said.
"Israel and the Kingdom will operate more strategically because wisdom is everywhere. There is no middle ground; there will undoubtedly be challenges, but this is a continual process that will lead to everyone's security and prosperity."
Dr Al Zayani reiterated the Kingdom's stance about supporting a two-state solution to end the Palestinian crisis. He also highlighted the urgent need to peacefully resolve the ongoing Russia-Ukraine conflict.