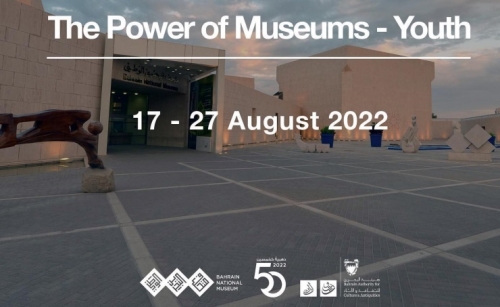 BACA to host series of events to celebrate International Youth Day, Power of Museums – Youth
Agencies | Manama
The Daily Tribune – www.newsofbahrain.com
Bahrain Authority for Culture and Antiquities (BACA) has lined up a rich program of events on August 17-27.
The events, part of the celebration of the International Youth Day and Power of Museums - Youth, include workshops, dialogue and discussion sessions with experts and specialists, and tours to introduce and highlight Bahrain's cultural heritage.
On August 17, a discussion of "The Amphibian Abu Shallakh", a novel by Dr. Ghazi Al Gosaibi, will be held at 6:30 pm at the Bahrain National Museum.
According to BACA, Al Gosaibi shows he is a traveler of imagination with an ability to highlight dialogue that travels to boundaries and borders and times without limits.
"The work starts spontaneously through dialogues, whereby Abu Shallakh recounts his conversations and memories through the beginnings of time, written in the novelist's usual black humor comic style, unveiling the mysteries of history, events, facts and persons."
On Thursday, the "Talk with an Archeologist" session at 6 pm at the Bahrain National Museum aims to raise awareness about the importance of safeguarding artifacts, and the proper methods, sound scientific steps, and basic elements that should be followed in order to preserve them.
"This conversation session will also call on all parties to enhance public awareness about the need to highly value these artifacts and archeological sites, as they stand as a reflection and testify to a deeply-rooted history and ancient civilization dating back to times immemorial."
Registration is required for those who will meet the volunteer team on Friday at 6 pm for a Bahrain National Museum guided tour.
The Museum Scavenger Hunt will also be held on Friday at the Bahrain National Museum, but at 7 pm.
According to the rules set by BACA, 20 teams, each consisting of two partners, will compete to find a solution to the puzzles presented, by answering questions in the light of the information of the different sections of the museum.
The Art of the story will be highlighted at a writing workshop with Nada Fardan on Saturday.
The workshop, for children aged between nine and 13 at the Bahrain National Museum, will review and explore the basic elements of creative writing, through providing an adequate presentation of writing skills, introducing the basic elements of the story.
"As writing displays imagination or invention and creative, artistic writing uses words to convey emotion or feeling, one must use imaginary scenarios invented by themselves," BACA said.
"In addition, this workshop will present multiple models and various exercises aimed at refining the writing skills of the participants and developing creative thinking."
On August 26, Bu Maher Fort will host an entertainment program with Kashta Tours starting at 5 pm.
The program features a guided-tour around Bu Maher Fort. Later participants will join the Kashta tours group.
A discussion on "Object's Inspiration" will be held on August 27 at 6 pm at Bahrain National Museum.
"The discussion panel will explore and shed light on the creative production of artworks inspired by the Object of the Month collection at Bahrain National Museum, by a group of participants specialized in different art forms, such as graphic designers, architects, photographers and illustrators."