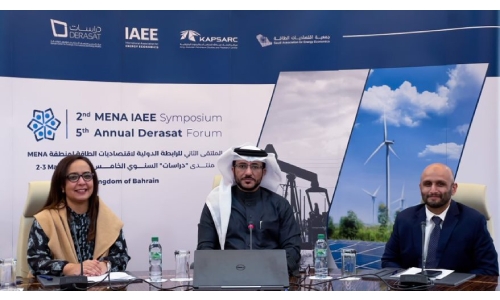 Bahrain's green growth 'not at odds with oil sector'
TDT | Manama
The Daily Tribune – www.newsofbahrain.com
Bahrain's green transition and green growth plans are not at all clashing with the ambitions of the oil and gas sector, and in fact, both complement each other quite well, observed Dr Omar Al Ubaydli, Director, Studies and Research at Derasat, yesterday.
Dr Al Ubaydli was speaking at the virtual press conference held to discuss progress towards convening the second IAEE MENA Symposium and the fifth Annual Derasat Forum on March 2-3 in Bahrain.
It was organised by Derasat along with the International Association for Energy Economies (IAEE) with its Saudi counterpart the (SAEE) and King Abdulla Petroleum Studies and Research Centre (KAPSARC).
"GCC countries including Bahrain are exerting great initiatives in the field of green energy, and these efforts in no way contradicts its dynamic plans for the oil and gas sector.
What we require here is to successfully use the revenues from the hydrocarbon sector to foster green energy transition," he pointed out. Echoing Dr Al Ubaydli's view, KAPSARC VP and Head of Research Dr Fahad Al Turki said the initiatives taken by the Saudi government serve as testimony to the fact that boosting the alternative energy sector is no way a threat to the renewable sector.
"This is an opportunity to subject research tracks to energy market observations and policies, in which Saudi Arabia, OPEC+, and a host of other regional and global actors continue to have a say, while also increasing the environmental government and corporate responsibility in the upcoming global energy mix," he added.
Derasat Executive Director Dr Hamad Al Abdulla said:
"The Kingdom and several GCC and MENA countries aim to reach net-zero emissions by 2060, and the next four decades require extensive research to provide scientifically, economically, and environmentally feasible decisions, policies and solutions."
"This marks the first global partnership to organise the Annual Derasat Forum, and we are proud that it will be alongside the IAEE, Saudi Association for Energy Economics (SAEE) and, KAPSARC," he added.
David Williams, IAEE Executive Director, said:
"The International Association for Energy Economies (IAEE) is pleased to partner with Derasat, a well-known think tank for providing outstanding research and collaboration in the MENA region.
"The second IAEE MENA Symposium and fifth Annual Derasat Forum will bring together energy leaders in the region together to discuss and debate the ever-evolving energy transition within MENA.
We will address such topics as advancements in Green Energy and Circular Carbon Economy leadership, Artificial Intelligence."
According to Derasat, the shift towards renewable energy sources and alternative fuels continues to demand more research to better inform the policy-drawing and decision-making processes within both oils exporting and importing nations.
"The Sustainable Development Goals have led governments in a pursuit to lower emissions, rethink legislations, and calculate the financial burden or relief associated with adopting one form of the energy mix in place of another.
"The COVID-19 pandemic accelerated the understanding of how impactful complacency is if the global economy delays further action towards fair and efficient energy transition, and at its center would be many countries in the Middle East and North Africa."
This year's theme for the event is "The Impact of Energy Transition in the MENA Region".
It aims to measure the aspiring economic and developmental goals and achievements in the MENA countries – especially the Arabian Gulf States – towards their ambitious environmental goals and efforts to curb pollution and climate change while preparing to withstand and benefit from the global shift to a green energy mix that focuses on renewables and alternatives.
Research organisations are a cornerstone in these comparisons, as they guide scientific observations of these energy developments while accounting for geopolitical and geo-economic factors that affect the course of events.
Following a Quarter Four 2021 call for papers, a remarkable response from over 30 contributors was received, including prominent scholars, researchers, field experts, and market analysts; the result of a rigorous assessment process.
These presentations will either suggest solutions or collaboration initiatives that aim to fulfil the objectives sought by the energy and environmental sectors while accounting for national economic concerns and priorities.
Representatives of more than 10 countries will be speaking at the event, spanning the public, private, industrial, and research sectors, whose recommendations will provide insight on the best forward approaches to address national income, new entry solutions to power, transportation and industry, and practices to adopt future energy sources, many of which already exist and have high potential in the MENA region.