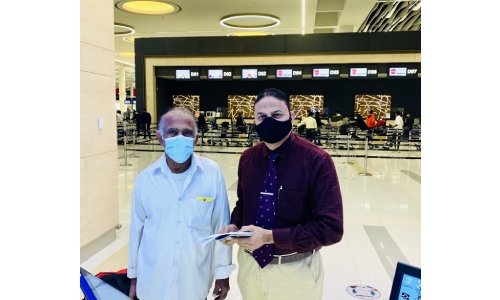 Stranded Indian expat returns home after nearly 25 years in Bahrain
TDT | Manama
The Daily Tribune – www.newsofbahrain.com
An Indian national who was stranded in Bahrain for nearly 25 years finally returned to his home country on Tuesday.
Sasidharan Pullot, 63, came to Bahrain in 1996 and has been doing odd jobs for his survival.
Sasidharan's life would become miserable after his passport was allegedly seized by his sponsor.
After being affected by age-related health issues, he was keen on reuniting with his family back home.
His illegal residency in the Kingdom would block all his dreams until a group of expat social workers led by Sudheer Thirunilath, World NRI Council Humanitarian Director for the Middle East and Venu Vatakara, Kozhikode District Pravasi Forum Charity Wing Joint Convener, came to the rescue.
Rajan Pudukkudi, another expat social worker, provided shelter and food to Sasidharan as he could not find any sources of income during the COVID-19 pandemic period.
They contacted Sasidharan's relatives in Vatakara – a place situated in Kozhikode district in the South Indian State of Kerala.
Sudheer took up the matter with the Indian Ambassador at one of the open house sessions, paving way for Sasidharan's travel back home.
The Indian Embassy issued an emergency certificate and Sasidharan flew to Kozhikode, ending the long ordeal.
Sasidharan thanked Indian Ambassador Piyush Srivastava, Rajan, Sudheer and Venu.
Expat social workers have helped many stranded expatriates go home.