New scams target online money transfer networks in Bahrain
TDT | Manama
The Daily Tribune – www.newsofbahrain.com
By Sreekanth Ravindran
Fraudsters have allegedly targeted the online banking and financial transaction network in the Kingdom resulting in money loss for many.
It is learned that many victims have launched a complaint with the police, pleading for an intense probe into the matter.
Scammers generally target victims by making calls to their mobile phones or sending SMSs.
Upon receiving the call or SMS, data is leaked and money is either transferred to other accounts or used for purchasing various goods online through the payment app already installed on the mobile phone.
Speaking to The Daily Tribune, an Indian businessman based in the Kingdom, who lost BD1,090 to scammers, said: "I would receive calls and SMSs from many strange numbers.
When I opened one of the messages, it took me to an online platform, quite similar to the one I use normally.
I started getting calls and SMSs from anonymous numbers.
Neither did I pick them nor did I share my OTP.
I instantly informed the money transfer app and was told to change my transaction password.
"Despite changing the password, I began receiving messages from my bank debiting BD1,000 initially and BD30 thrice later."
"My mobile app transaction limit has been fixed at BD300 and online transfer cap was BD1,000.
It is hard to believe that the scammers even managed to overcome this specific cap and transferred BD1,000 to another local bank account apart from buying three vouchers of a telecom company for BD30 each."
He said scammers might have transferred the money to a foreign account. "When I spoke to my bank, they said they had already placed a message to retrieve this money but couldn't claim it back since the money has already been transferred from that account too. I haven't received any call from my bank or the Crime Investigation Department. I am afraid the money is gone forever.
"It's high time the authorities concerned to investigate the matter more seriously and co-ordinate with those countries, which host banks into which money has been transferred.
How can they ignore this by telling us that we have no clue about the funds!
This is quite scary."
Another Indian national, who lost BD40 to the scammers, said he approached his bank to inform them about the fraudulent act.
"They seem to be clueless.
Neither are they willing to take up the responsibility of securing my online banking process.
"The bank says the problem lies in using the payment app.
But many are losing money while carrying out online transactions.
I could see many people waiting at the CID office having similar complaints."
Two days ago, a Bangladeshi national woke up only to find BD150 had been transferred from his account.
"I rushed to the bank.
They were not believing me and would cite the situation as my mistake. How could I transfer money while sleeping?"
A Pakistani national also met with a similar fate yesterday.
"I lost BD130 from my account.
Upon informing, bank officials gave me a letter, which I have handed over to the CID personnel.
I hope I will get back the money once scammers fall into the police net," he said.
A banker who opted for anonymity said scammers engage in ATM skimming to collect card details.
"A skimmer is a card reader disguised to look like part of an ATM.
The skimmer attachment collects card numbers and PIN codes.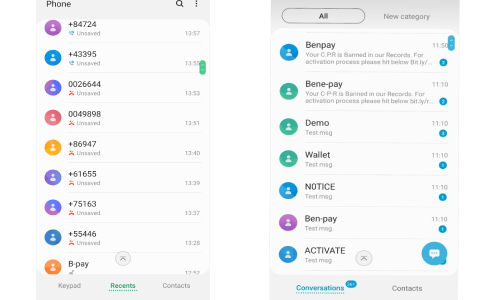 Things become much easier for them since most people have the same passwords for ATMs and online banking.
These details are used to transfer scammed funds locally before sending them abroad.
Most often, the local account holder is unaware that scammed funds have been transferred into his account."
"Such incidents throw difficult questions before us. How safe is online funds transfer? How safe is one's bank account? Why are we unable to track the scammers? Are online apps a safe platform? Why can't they trace the end beneficiary?
Why is no one taking the blame when fraudsters are looting money from our accounts?
These are all challenges we face in a technologically-driven world. When no one is ready to take the blame, caution remains the only cure."
Cyber security experts have always been highlighting the need to protect Unified Payment Interface (UPI) and online transactions from scammers in light of increasing online payments.
They include not responding to calls and text messages from strangers along with putting up different passwords on different accounts and UPI apps.
The Central Bank of Bahrain, many a time, has carried out campaigns and circulated messages alerting over the possibility of falling victims to online fraudsters.