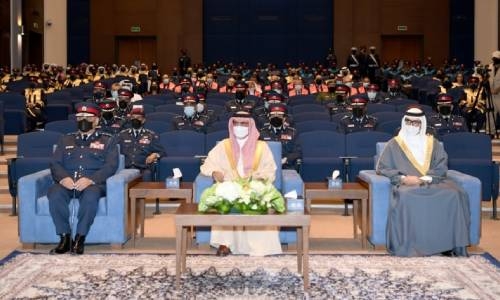 Interior Minister attends RAP graduation ceremony
TDT | Manama
The Daily Tribune – www.newsofbahrain.com
Interior Minister, General Shaikh Rashid bin Abdullah Al Khalifa, yesterday attended the graduation ceremony of the fifth batch of master's degree students of the Royal Academy of Police (RAP).
The academy offers two master's degree programmes: criminal and police science and administration and security science, along with a master's degree in cooperation with the University of Huddersfield.
The event, held for 178 graduates, was attended by Chief of Public Security, Lieutenant-General Tariq Al Hassan, and RAP Commander, Brigadier Fawaz Al Hassan. The minister expressed thanks and appreciation to His Majesty King Hamad bin Isa Al Khalifa for his support and care for the police personnel to promote their national security protection role.
He also expressed gratitude for the follow-up of His Royal Highness Prince Salman bin Hamad Al Khalifa, the Crown Prince and Prime Minister, to reinforce security preparedness.
General Shaikh Rashid bin Abdullah asserted that promoting higher education, the development of security approach, and the police policies for positive dealing with future challenges are crucial for tackling security changes and the expansion of smart policing and the utilisation of artificial intelligence.
He noted that the development and modernisation process of the Interior Ministry covers many security areas to meet requirements and develop capabilities and skills.
The minister congratulated the graduates and expressed thanks and appreciation for their efforts and the rich contents of their research that could contribute to advanced security services and enhance performance to meet inspirations and future development requirements.
Brigadier Al Hassan, in a speech, highlighted the academy's dedication to promoting higher education programme, as the Supreme Council for Education accredited in 2021 around 12 programmes, including six master's degrees and six PhD degrees in various security and legal fields.