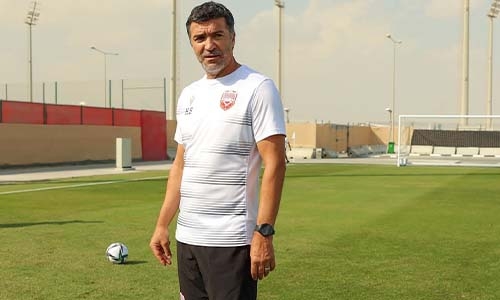 Bahrain football team determined to bounce back from opening-night loss
TDT | Manama
The Daily Tribune – www.newsofbahrain.com
Bahrain head coach Helio Sousa says that the national team will continue to give their maximum in their two remaining group games in the FIFA Arab Cup 2021, especially as they are determined to bounce back from their narrow 0-1 loss to hosts Qatar on Tuesday.
The nationals next face-off with Iraq tomorrow before completing their Group A campaign against Oman on Monday. They are currently last on the group table but Sousa is confident that his players will fight for maximum points until the very end.
"We still have two games to play, six points to conquer," the Portuguese tactician said after their loss to the Qataris.
"Our objective was to win our first game and now it is hurting, but tomorrow for sure we will already focus on our next game and we will do all we can to control what we can, and to be in the best conditions to win.
"We will fight for the three points and keep fighting to be in the next stage of the competition."
The Bahrainis must finish in the top two from their group to march through to the knockout quarter-finals.
Qatar currently leads with three points, while Iraq and Oman each have one, with Bahrain on zero.
Of their loss to the home team, Sousa said they lacked aggressiveness in attacking during the second half, but believes nonetheless that his team played just as well as their rivals.
"We controlled most of the game," he explained.
"They changed in the second half their structure but they kept playing the same way. "In the second half, I think we missed a little bit of more aggressiveness.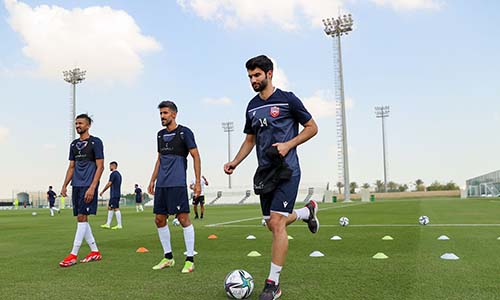 I think we missed a little bit to keep more pressure on them.
"We got two real situations [to score], but we can do more than we did, even get a draw from it.
"We must remember we played against a strong team that has over the last two years had an amazing experience playing with three teams in the top 10, 16 teams in the top 50 and six teams of the top 20, which gave them different conditions to support these types of games.
"They were pressed and our players played at the same level, but in the second half we missed a bit of aggressiveness when attacking the goal."
Sousa described the atmosphere in their opening fixture at Al Bayt Stadium as "fantastic", and says that the national team's players can only benefit from such scenarios.
"We need this kind [of the atmosphere] in every game," he said.
"Players grow a lot with this, they are more prepared to deliver their best qualities to the team with this kind of environment.
"It was fantastic for the first game, and I hope it stays like this for all our games." Following their game Tuesday night, the nationals went straight back to work yesterday morning on the training pitch in preparation for their next clash.
Bahrain's match with Iraq tomorrow is scheduled for an early kick-off at 1 pm, Bahrain time. It will be played at Al Thumama Stadium in Doha.