Carrefour Bahrain, SCE kick-off "Love Our Planet" campaign
TDT | Manama
The Daily Tribune – www.newsofbahrain.com
Carrefour, owned and operated by Majid Al Futtaim in Bahrain, announced the launch of its "Love Our Planet" campaign to encourage customers to lead a more sustainable lifestyle.
Throughout July, Carrefour Bahrain will lead three initiatives that will encourage customers to reduce their use of single-use plastics.
The first initiative is a buy one, get one free offer, where customers will receive a free eco-friendly bag every time they buy one.
The "Go-Green Receipts" initiative will encourage Carrefour MyCLUB members to opt for digital receipts on their Carrefour App instead of paper receipts.
Lastly, a social media competition under the theme #ZeroWasteKids will challenge children to invent new ways to re-use plastic materials for daily use and share their creations online. "This will help create a longer life cycle for plastic materials around the household."
A committee of the Supreme Council for Environment and Carrefour Bahrain will choose the winners. Dr Mohamed Bin Mubarak Bin Daina, the Special Envoy for Climate Affairs and Chief Executive of SCE, said, "The Supreme Council for Environment supports all programmes and activities aimed at spreading environmental culture, increasing the level of environmental awareness among all members of society, and achieving sustainable development goals."
These activities and programmes also include those concerned with the proper management of waste by encouraging citizens through various initiatives and strengthening community partnerships.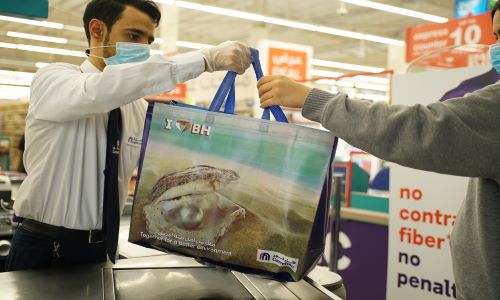 He further explained that this campaign aims to raise awareness by increasing education about the danger of plastic waste and introducing them to environmentally friendly alternatives.
"This will create a greater urgency of preserving the environment in the Kingdom through the principle of partnership and solidarity."
He added: "We are aware of the importance of everyone's role in preserving the environment of the Kingdom, and we are working towards achieving greater sustainability by preserving resources to ensure future generations are part of a healthier world."
Jerome Akel, Country Manager of Carrefour Bahrain at Majid Al Futtaim Retail, said: "At Carrefour, we believe it is our responsibility to educate our customers about the importance of shopping and living sustainably for the betterment of our planet.
With more and more customers adopting more sustainable practices into their everyday lives, we aim to provide them with environmentally friendly alternatives to everyday items."
Carrefour Bahrain aims to reduce the use of single-use plastic in its stores by 20 per cent by the end of 2021.
Last year, Carrefour Bahrain saw a reduction in the use of plastic bags by 7%.