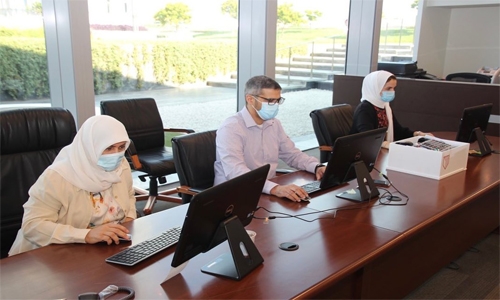 Sitra walkway, Danaat Al Hoora, school maintenance and more
TDT | Manama
The Daily Tribune – www.newsofbahrain.com
Development of Sheikh Jaber Al-Ahmad Al-Sabah Street intersection, maintenance of Sitra Walkway, and Works of Danaat Al Hoora are some of the projects being awarded by the Tender board this week.
Altogether, the board opened 99 bids for ten tenders placed by eight administrative bodies in the Kingdom.
Representatives of the administering parties and the companies participating in the tenders were present.
The tender board said it would award the projects to the best bids, based on conditions and lowest price.
The first tender opened was for developing the intersection of Sheikh Jaber Al-Ahmad Al-Sabah Street with Street 1 - Sitra. The tender launched by the Ministry of Works, Municipalities Affairs and Urban Planning attracted 18 bids.
The bids range between BHD 120,996.870 and BHD 297,349.430.
Santy Excavation & Construction Company made the lowest quote, and Al Ahlia Contracting Company the highest.
The project aims to reduce traffic connection and delays during peak hours by upgrading the current intersection.
The committee also opened two other tenders by the Ministry of Works.
The first was for engineering consultancy services for road design works, for which received 15 bids.
The second was for the comprehensive maintenance work for Askar Primary and Middle School for Boys and Ahmed Al-Fateh Primary and Preparatory School.
The project received eight bids ranging between BHD 297,880.000 and BHD 404,000.000. Saraya Contractors was the lowest bidder.
Capital Municipality tender for the maintenance of Sitra Walkway and 21 parks in the Capital Municipality attracted eight bids.
BHD 183,976.800 quoted by Al Jameel for Garden Care was the lowest.
A tender by the Ministry of Justice, Islamic Affairs and Endowments said it is looking to hire specialists at its IT Directorate.
The tender attracted 11 players, with them quoting between BHD 96,733.350 and BHD 157,437.000 to take up the work.
Nexcel Computer Solutions was the lowest bidder.
Electricity and Water Authority was looking to lease a tower crane with a height of 18 meters. Three bids received for this tender.
Zayani leasing's BHD 43,444.800 emerged as the lowest.
A tender by the Bahrain Authority for Culture and Antiquities for renting cars received five bids. In the oil and gas sector, the committee opened a tender by Tatweer Petroleum for procuring a rapid intervention vehicle.
Five parties made quotes between BHD 73,500.000 and BHD 117,747.000.
Sayed Kadhem Al Durazi & Sons emerged as the lowest bidder.
The committee also opened a tender by the Eskan Bank for engineering supervision work at the Danaat Al Hoora project.
The tender attracted 18 bids. Finally, a tender by the Bahrain Real Estate Investment Company (Edamah) for laying and connecting electricity cables to the warehouses located in Sitra Industrial Zone attracted eight bids.
Al Ahlia Contracting Company's BHD 160,822.940 emerged as the lowest bid.