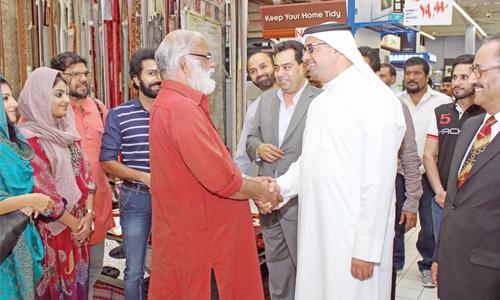 In a first, shooting of Indian film in Bahrain
For the first time, the Kingdom of Bahrain is a location for an Indian film. The shooting of a Malayalam film, Mohavalayam (Ring of Desire) by the veteran director TV Chandran, is progressing well in the country.
Of late, Bahrain has become a favourite destination in the Middle East for filmmakers. There is an increase in the number of films and TV serials that have been announced or started filming in the Kingdom.
Mohavalayam is the first Indian film to get permission to shoot in the Kingdom. Early this month, a Hollywood TV serial production house had announced their shooting plans in Bahrain.
Mohavalayam, is the 15th film by the award-winning director. He is donning the director's cap after a gap of three years. The film narrates the story of the life and aspirations of Malayalees, who reach Bahrain from Saudi Arabia crossing the King Causeway Bridge.
Anjal Sreenath, Noble Kavalam, Ashraff, Krishna Kumar, Ganesh and PA Samad are the producers of the film under the banner Causeway Productions.
Speaking to DT News, Samad said that the idea of the film was to showcase the happy and positive side of life in Bahrain.
"When we talk of expats' life, we only hear about sad stories. But we know that there is a positive side to their life here. Bahrain has an open and a lively culture. When director TV Chandran suggested the story, we decided to back the project as it tells a positive story of life in the Gulf," he explained.
This is the first feature film project produced under the banner. Actress Mythili will play the lead role and the ensemble cast also includes Joy Mathew, Renji Panicker, Shine Tom Chacko, Siddique, Sudeesh, Indrans, Srinda, Gopika and Sajitha Madathil.
MJ Radhakrishnan, who had worked in films like Birds with Large Wings, Sengadal, Papilio Buddha and Kaliyattam, cranks the camera. M. Jayachandran is the music director to the lyrics penned by Rafeeq Ahamed and Anchal Sreenath.
The crew of Malayalam film Mohavalayam (Ring of Desire)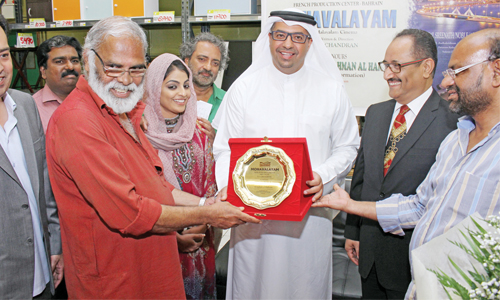 Minister of Information Affairs Isa bin Abdulrahman Al Hammadi along with filmmaker T.V. Chandran (left) on the set of film Mohavalayam yesterday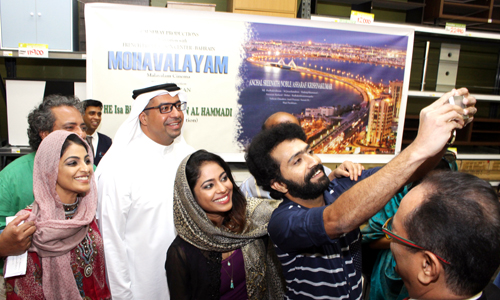 Actors click a selfie with the minister