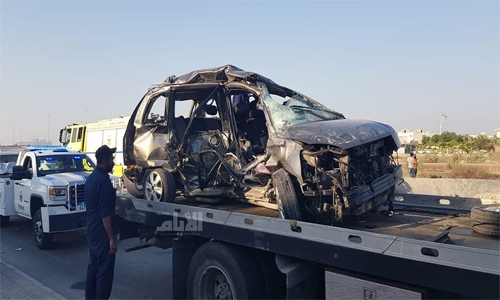 Hit-and-run motorist remanded for further investigation
Manama
The Daily Tribune - www.newsofbahrain.com
A hit-and-run motorist whose reckless driving caused the death of four Asians on October 19 has been remanded by the Public Prosecution for further investigation. Following interrogation, the 21-year-old man was also charged for severely injuring three others in the same accident that took place on Wali Al Ahad highway near Hamala towards Buri in the Northern Governorate.
"The accused was driving his vehicle in a way that endangered his life as well as that of others, dangerously overtaking vehicles wrongly. He tried to overtake the victim's vehicle from the left lane to the right lane," said Traffic Prosecution Chief Mohammed Al Dhahrani.
"In order to avoid collision, the victim swerved to the right, thus losing control of his vehicle that jumped over a road divider. The vehicle then collided with another vehicle coming in the opposite direction from the other side of the road. This resulted in the death of four people at the spot and severely injuring three others."
Mr Al Dhahrani added that the suspect fled from the scene immediately. However, he was later identified and arrested. Investigations are ongoing.