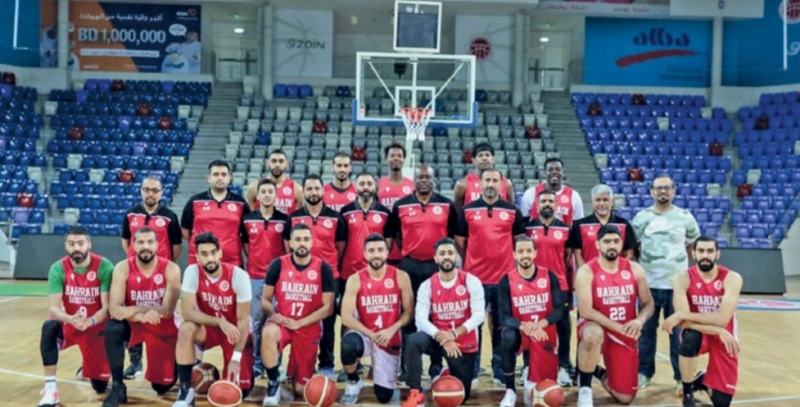 National basketball team set for Amman camp
Bahrain's national basketball team depart today for Amman where they will hold a training camp in preparation for their upcoming qualifiers for the 2021 Fiba Asia Cup. The Bahrainis are in Group D of the qualification process along with India, Lebanon and Iraq.
They open their campaign against their Indian counterparts at home on February 21, and then travel directly to Beirut to play their Lebanese counterparts just three days later on February 24. Bahrain will be taking part in an international friendly tournament while in Jordan. There, they will be facing qualifying rivals Iraq and Lebanon, as well as Syria and hosts Jordan, which would give them the ideal tuneup games ahead of the qualifiers.
Bahrain head coach Sam Vincent has named 13 players to travel with the team to Amman. They include three from defending league champions Muharraq, namely Ahmed Aldurazi, Ali Shukrallah and Mohammed Buallay; two from Khalifa bin Salman Cup holders Riffa, including Subah Hussain and Mohammed Salman; three from Al Ahli including Mohammed Qurban, Maytham Jameel and Hesham Sarhan; four from Manama, namely Mohammed Hussain, Ahmed Abdulaziz and Ameer brothers Mohammed and Muzamel; and Al Najma's naturalised big man CJ Giles.
The team have already been practising locally under Vincent at the Khalifa Sports City arena in Isa Town. Vincent's assistant coach on the national team is Ayoob Haji. Following this month's qualifiers, there will be a long break before the Bahrainis' next game on November 26, which is away against Iraq.
They then play away once again against India on November 29. Their final two qualifiers will be held in February of next year, both at home against Lebanon and then Iraq. The top two teams from each of the six qualification groups book their tickets to the Fiba Asia Cup, while the third-placed teams go to another stage of qualification, where another four final spots will be up for grabs.