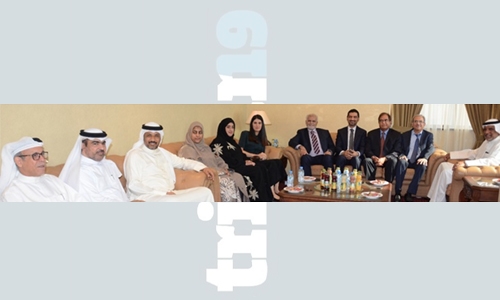 EWA Ministry to boost ties with municipalities
Electricity and Water Affairs Minister Wael bin Nasser Al Mubarak has said the Capital Municipality Council and municipal councils are partners in making and taking decision in the service field as one of the tributaries of the national project of His Majesty the King. This assertion came during a meeting with the President and members of the Northern Municipal Council who congratulated the minister on receiving the royal trust in his appointment as Minister of Electricity and Water Affairs.
The minister said according to the directives of His Highness the Prime Minister Prince Khalifa bin Salman Al Khalifa and the attention and follow-up of His Royal Highness the Crown Prince, Deputy Supreme Commander and First Deputy Prime Minister, Prince Salman bin Hamad Al Khalifa, the Electricity and Water Authority continues to co-operate with the municipal councils and the Capital Municipality Council as the link with citizens and residents.
He stressed on the continuation of this communication and of present the plans and projects of the future local council to the municipal councils. President of the Northern Municipal Council Ahmed Al Kooheji, expressed satisfaction at the level of co-operation between the municipal councils and authority, appreciating the co-operation of the concerned parties in the sector including the minister, the CEO and the vice presidents and their keenness to communicate and coordinate with the chairman and members of the council.