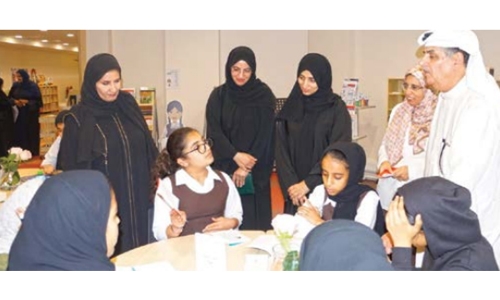 The Deputy CEO for School Operations at the UAE's Ministry of Education, Lubna Al Shamsi, has expressed admiration for Bahrain's experience in cancelling home assignments for students and replacing them with daily hands-on exercises implemented by students under teachers' supervision inside the classroom before the end of each lesson.
She described it as a pioneering educational experience that is worthy of interest, given its role in achieving many goals, the most important of which is giving students the opportunity to spend their free time in self-study, research and creativity. Ms Al Shamsi also praised Bahrain's experience in allocating daily reading lessons in Arabic and English for students so as to enrich their knowledge in various fields.
The UAE official made the statements during her field visit, along with an Emirati educational delegation, to the Mariam bint Omran Primary Girls' School and the Buseiteen Intermediate Girls' School, in the presence of the Director of Primary Education at the Ministry of Education, Fatima Al Buainain, in addition to specialists from the Ministry.
The delegation visited classrooms and were informed about the students' positive interaction during the reading and e-lessons.