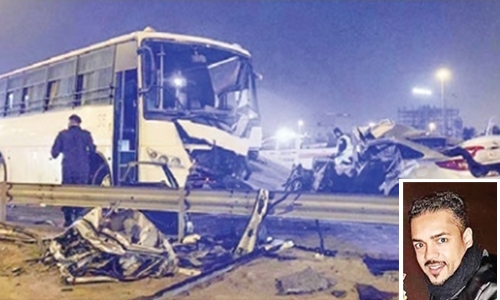 Fatal accident driver jailed for three years
An Asian bus driver, who was driving under the influence of alcohol and caused a traffic accident that killed a Bahraini national last month, received a three-year imprisonment yesterday. The 'drunk bus driver was driving in the wrong direction on Shaikh Isa bin Salman Highway near Sehla, after "missing a turn", as proved by investigations.
The Bahraini victim, identified as Ali Al Haddar, a Bahraini social worker in his twenties, was announced dead on the spot, after the vehicle he was driving got stuck under the bus following a head-on collision. According to Traffic Prosecution Chief Mohammed Al Dhahrani, the man was also sentenced by the Sixth Lower Criminal Court yesterday to be deported after completing his jail sentence. As reported earlier by Tribune, the accident occurred below Isa Town flyover on the busy highway. The Public Prosecution previously confirmed that it had interrogated the defendant, who "wanted to drive towards the Isa Town flyover, but took a wrong turn".
According to the results of the prosecution's probe, "the suspect stopped the bus on the emergency lane on the right, then he took a U-turn and drove for 800 metres on the left lane, opposite to the oncoming traffic, resulting in the collision with the victim, who was stuck in his vehicle and died on the spot as a result of the injuries he sustained". The bus driver was charged with unintentionally causing the death of a person, driving under the influence of alcohol, causing damages to others' properties, reckless driving, driving in the wrong direction and driving an unregistered vehicle.
On Sunday, An Asian truck driver was yesterday sentenced to two months' imprisonment for driving on the emergency lane on Istiqlal Highway near Sanad. The court also ordered to permanently deport the defendant after he completes his imprisonment sentence. Traffic Prosecution Chief Prosecutor Hussain Al Sairafi said in a statement issued by the Public Prosecution yesterday that the man drove his truck over the speed limit of the road and "drove in a manner that risked motorists lives and used the emergency lane to overtake vehicles".
As reported by Tribune last week, the trucker was seen in a viral video online while speeding and driving on the hard shoulder of Istiqlal Highway. In the footage, the man was seen over-speeding and overtaking other vehicles using the emergency lane. He was filmed by a concerned driver who shared the video on local social media networks, calling the authorities to take deterrent actions against such violators.
A nation wide petition emerged, calling to curb the "deadly" behaviours of truckers on the Kingdom's roads, especially after it claimed the lives of two Bahraini drivers in the same period.