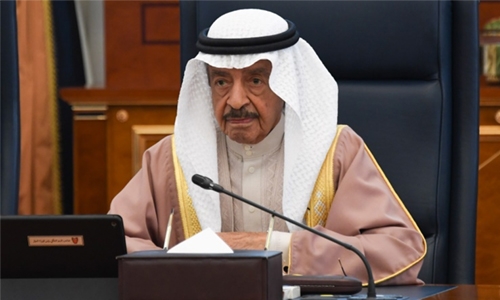 Premier orders to step up security
Chairing the weekly Cabinet session yesterday, His Royal Highness Prime Minister Prince Khalifa bin Salman Al Khalifa gave directives to the security authorities to tighten preventive and precautionary measures at vital installations and facilities in light of the rapidly-unfolding regional developments. The Cabinet condemned, in the strongest terms, the heinous attack on two Saudi Aramco's oil facilities, describing it as an outrageous terrorist act that constitutes a serious escalation and poses a threat to the global energy supply and the world economy.
The session reiterated Bahrain's fully-fledged support to sisterly Saudi Arabia and backing of all measures it deems necessary to safeguard its security and stability and defend its interests, calling on the International Community to take urgent action to prevent these brutal attacks and those behind them, a statement by the Cabinet Secretary-General, Dr Yasser Al Nasser, said. The Cabinet also condemned the Israeli Prime Minister's plans to impose Israeli sovereignty over lands in the occupied West Bank, stressing that it is a serious assault on the historical and legal rights of the Palestinian people, a violation of international legitimacy laws and resolutions and an escalation that would undermine the peace chances in the region.
In this regard, the session welcomed Saudi Arabia's call for an emergency meeting of the Organisation of Islamic Cooperation (OIC) to discuss this issue, noting that the move reflects the keenness of Saudi Arabia, under the leadership of the Custodian of the Two Holy Mosques King Salman bin Abdulaziz Al Saud, to develop an urgent plan of action in the face of challenges. In this context, the session was informed by the Parliament Affairs Minister about the results of the OIC extraordinary meeting at the level of foreign ministers, held recently in Jeddah, Saudi Arabia.
Among other things, HRH Premier commended the efforts exerted by government departments, and the cooperation of the citizens and community centres during the Ashoora Commemoration season, thus leading to the event's success, and reflecting the depth of the existing community partnership between the citizens and the relevant authorities.