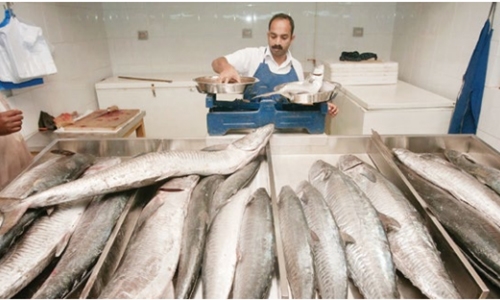 Two-month ban on fishing of kingfish
A seasonal two-month ban on fishing kingfish has been announced by the Agriculture and Marine Resources Affairs at the Works, Municipalities Affairs and Urban Planning Ministry. During the ban period, extending between August 15 and October 15, fishermen are not allowed to catch or sell kingfish, locally known as chan'ad.
The ban aims to increase the Kingdom's kingfish stocks, regulate fishing and avoid exhausting and depleting fisheries to achieve balance within marine life, Agriculture and Marine Resources Affairs said, stressing that all necessary measures will be taken to implement the ban. It emphasised that violators of Decree-Law 20/2002 on the regulation of fishing, exploitation and protection of marine wealth will be held accountable, calling on fishermen to co-operate with the competent directorate to implement the ban and preserve marine wealth.
The ban is also in line with the resolution taken by the Agricultural Co-operation at the Gulf Co-operation Council (GCC) during its 23rd meeting held in Riyadh. Last year, legal proceedings were taken against many fishermen for illegal shrimping. The ban is one of the measures taken by the government to protect marine resources of the Kingdom. In a report published last year, many accused told Tribune that they were engaging in illegal shrimping due to unemployment and poverty.
A youth, who doesn't want to be identified, had said, "Many fishermen are giving their boats to expat workers, encouraging them to violate the shrimping ban. "Coast Guard personnel generally don't turn suspicious on seeing expat fishermen and hence they get away, bringing large quantities of shrimp and flooding the market."
The ministerial resolution mentioned that possessing tools and equipment used to catch shrimp is illegal during the sixmonth ban period, while warning violators of strict legal actions. Bahrain annually bans shrimping to protect marine resources and allow the creatures to reproduce. Similar decisions are applied in other countries in the region such as Kuwait.