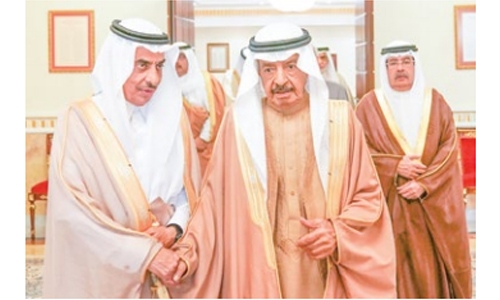 Saudi Arabia 'main pillar of regional security, stability'
His Royal Highness Prince Khalifa bin Salman Al Khalifa, the Prime Minister, emphasised the importance and the value of Saudi Arabia in all hearts and souls in the Arab and Muslim worlds, being the cornerstone upon which the Ummah relies to confront the various challenges. HRH the Premier stressed that the Kingdom of Saudi Arabia constitutes the strategic depth and the main pillar of security and stability in the region.
His Royal Highness praised the pivotal role of Saudi Arabia under the leadership of Custodian of the Two Holy Mosques King Salman bin Abdulaziz Al Saud and HRH Crown Prince Mohammed bin Salman bin Abdulaziz, Deputy Prime Minister and Minister of Defence of Saudi Arabia, in supporting the cause of Arab and Muslim nations. HRH the Prime Minister stressed the deep-rooted brotherly relations of amity and compassion, which charts a model of unique historic relationships established by the fathers and forefathers.
This came as HRH the Premier received Ambassador of Saudi Arabia to Bahrain Dr Abdullah bin Abdul Malik Al Shaikh, in Riffa Palace, yesterday on the occasion of the conclusion of his term as his country's ambassador to Bahrain. During the meeting, HRH the Prime Minister praised the ambassador's efforts in developing and bolstering the existing fraternal ties that mirror the directives of the Custodian of the Two Holy Mosques in advancing the level of co-operation to highest levels, wishing the outgoing ambassador success in the duties of his future assignment.
The Saudi ambassador expressed his deep gratitude and appreciation to HRH the Prime Minister for all the co-operation and support he received throughout his ambassadorial term that contributed to boosting the genuinely amicable brotherly ties.