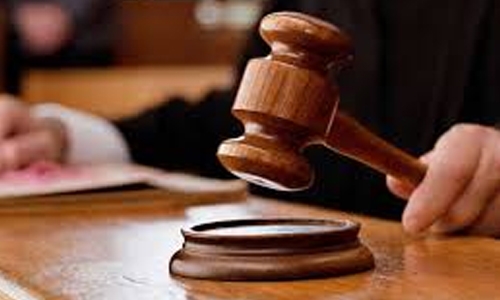 Galali stabbing: Man to stand trial on June 24
A man charged with at - tempted murder for allegedly stabbing another multiple time in Muharraq Gove r n o ra t e w i l l head to trial later this month. Court files say, the suspect stabbed his victim with a knife while in Galali. The court will hear the case on 24 June 2019.
The case was referred to public prosecution on 12 February 2019 by Samaheej Police, said Chief Prosecutor Adnan Fakhro. Prosecutors collected testimonies of the victim and eyewitnesses during the investigation. A coroner examined the victim, the knife used and the fingerprints on it. "The prosecution interrogated the suspect and heard his statements, before ordering his detention until the date of the trial," Fakhro stated.
Investigators found that the suspect pursued the victim with a knife and waited for an opportunity to attack. While in Galali, the suspect walked up to the victim and stabbed him repeatedly, while knocking him to ground. He then continued to stab the victim to ensure his death before fleeing. The victim was rushed to a hospital. The Public Prosecution charged the suspect with premeditated murder.