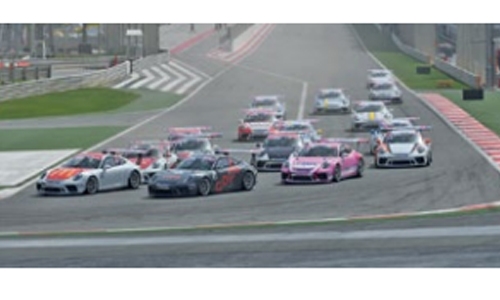 Porsche GT3 Cup set for thrilling season finale supporting F1 Bahrain GP 2019
The sixth and final round of the 2018/2019 Porsche GT3 Cup Challenge Middle East is set to add to the "Limitless" thrills this coming Formula 1 Gulf Air Bahrain Grand Prix 2019, taking place March 28 to 31 at Bahrain International Circuit (BIC) in Sakhir. The Porsche GT3 Cup is one of two supporting championships to the Formula 1 spectacle that will soon be taking the region by storm. The other is the FIA Formula 2 Championship.
The Porsche GT3 Cup is the biggest and most popular onemake motor racing championship in the entire region. It has been the number one choice of the Arab world's most promising circuit racing drivers to broaden their racing experience in a professionally run series. Drivers race in identical Porsche GT3 Cup Car 911s, supplied by the founders from Lechner Racing. Clear rules ensure an equal footing – single-seated, near-standard race vehicles of the same make adhering to strict safety guidelines. The regulations consistently ensure fair competition and the highest standard of safety for participants.
The series has just come off its season's fifth and penultimate meeting held at BIC, setting the stage for an electrifying championship finale with the title battle going down to the wire. Frenchman Jean-Baptiste Simmenauer clinched a fantastic double in the previous round, with Turkish ace Berkay Besler winning the other race.
Both drivers will be back at the Bahrain Grand Prix, as will top title contenders Al Faisal Al Zubair and Khalid Al Wahaibi of Oman. They are all competing in the Pro class, along with Cypriot Tio Ellinas, Luxembourger Dylan Pereira, and Frenchman Julien Andlauer. Al Zubair is the defending champion and is a favourite to repeat.